5 Reasons Sheriff's Offices are Using RediTALK-Flex
For Sheriff's departments across the United States, few pieces of equipment are more vital to getting the job done than their dispatch devices. Without the ability to receive and respond to calls for help from members of the public, officers would be unable to fulfill their most important duties – to protect and serve.
To maintain that crucial level of trust a law enforcement agency needs, the public should be able to contact them easily, and situation reports, plans, and directives must be easily transmitted to officers on the beat. Thankfully, the RediTALK-Flex system is designed to facilitate this type of communication. Here are five reasons why it's the right solution for sheriff's departments.
In the often high-stakes world of law enforcement, knowing that you will be able to quickly collect and share information is critical. The RediTALK dispatch solution enables users to communicate more effectively with officers, leading to faster response times and a more efficient department.
2. Improved Public Service
The purpose of law enforcement agencies is, first and foremost, to protect the public. Part of that service involves being able to dispense information in a crisis. The ability to respond to calls more efficiently means that members of the public receive optimum service from their police or sheriff's department.
White Paper
Which Dispatch Solution?
With the large variety of dispatch consoles and solutions out there, not to mention the differing protocols and technologies, choosing the best dispatch console for your organization can be a confusing process.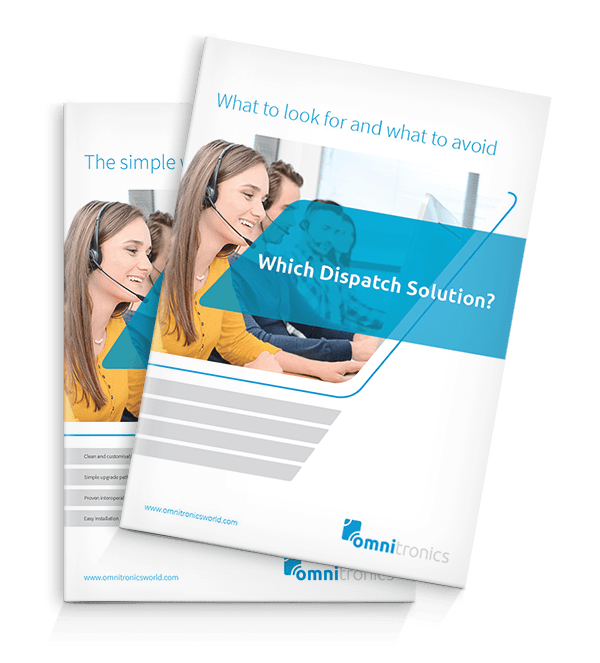 The nature of the job means the safety of officers is sometimes put into jeopardy. While they are trained professionals, they still require plenty of support
to make policing as safe as possible
.
RediTALK-Flex
features – such as Advanced
Location Services
– enhance safety by allowing dispatchers and managers to accurately locate their officers, and send in backup if required.
While it's important for Sheriff's departments to have the tools to be effective on their own, remember that they are also just one part of a wider public safety and emergency management system. Being able to communicate with other agencies, such as local fire departments and ambulance services, allows for a truly coordinated response to incidents.
Holding together all these important functions is the ease of use of
RediTALK-Flex
. The intuitive, touch-screen design means operators require minimal training, and tasks can be carried out with just a few clicks.
The dedicated officers of Sheriff's departments across the nation work tirelessly to make their jurisdictions a safer place for citizens. Having an effective dispatch solution in place to support them allows officers to respond where they're needed most, so
speak to

Omnitronics
about
RediTALK-Flex
or our enterprise dispatch system,
omni
core
, today.
Video
The Power of
RediTALK-Flex

in Under 60s

See how this radio dispatch software is revolutionizing the way in which communication centers operate.
Enterprise Radio Dispatch Management
omnicore
The Easy to Use and Flexible Stand-Alone Dispatch Software. Deploy in the Cloud, on Site, or in a Data Center.
Case Studies
Similar Success Stories
The Omnitronics omnicore Enterprise Dispatch System has been selected by Surf Life Saving New S ...
read more