Case Study
Gold Mine Uses 619DSRI for Above Ground to Below Ground Communications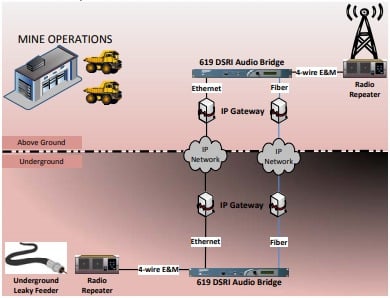 To improve safety, reliability and efficiency, Mussel White gold mine upgraded their radio communications between above and below ground to using an Ethernet connection. As part of this upgrade they wanted the ability to expand the site and to have a backup system for emergency situations to reduce the high risks associated with underground mining. The 619DSRI Radio Interoperability Gateway provides this ability.
Customer Profile
Gold Mine in Ontario, Canada
Application
Dynamic switching between connection paths in the event of an outage between above and below ground.
Products Used
619DSRI Interoperability Gateway
The Challenge
Ensuring that a Backup System Kicks in Immediately in Event of Outage
Communicating below ground adds an additional level of challenge for radio systems. Perhaps the most significant challenge is that of ensuring if there is an outage, a backup system kicks in immediately. At Mussel White, they have laid both Ethernet and Fiber Optic cables connecting the above ground repeater site to a below ground site. They now needed a device to automatically switch between the connections in the event that one failed.
Business Benefits
Increased Reliability of the Radio Network
The Solution
A 619DSRI Interoperability Gateway was Installed Both Above and Below Ground
The 619DSRI Audio Bridge has the ability to automatically steer voice calls along different paths as a result of digital inputs. A 619DSRI was installed both above and below ground to dynamically switch between the Ethernet and Fiber Optic cables if one fails.
Product Focus
619DSRI Audio Bridge / Interoperability Gateway
Easy to Use
Smart, flexible & dynamic
Supported Signalling
CTCSS or tone signalling
Features
Cross-banding, group config & more
Conclusion
A Solution That Meets Both Current and Future Needs
By installing the 619DSRI Audio Bridges, Mussel White mine is now able to confidently switch between primary and secondary communications paths. The system also caters to system expansions without upgrading their equipment as the 619DSRI has 8 ports and 8 programmable configurations. Furthermore, the 619DSRI can cross‐band radios regardless of manufacturer or frequency band, providing ultimate flexibility.
Thanks to Spectrum Telecom Group Ltd who took the time to create a solution that meets both current and future needs.
We'll find the perfect system for your individual needs
Case Studies
Similar Success Stories
Due to the large amount of active oil projects on the west coast of Africa, the need for trustworthy communication systems has never been...
read more
We'll find the perfect system for your individual needs.