Radio Interoperability Solutions
Radio interoperability is vital to many organizations. However, this term can be quite ambiguous as the range of interoperability can vary significantly.
At Omnitronics, we strive to give organizations complete radio interoperability and flexibility from between frequency bands to full inter-agency cooperation.
Radio Interoperability Solutions for Digital & Analog Networks
Whether you're using digital radio technologies such as DMR, IDAS, MotoTRBO, Nexedge, P25 or Tetra, or you require IP connectivity for your analog networks, we have the solution for you.
Simplified Migration
A common hesitation many organizations have towards upgrading their radio networks is the significant time and cost associated with changing over all their radios at one time. This is especially complex when there are radios spread across large geographical areas.
Omnitronics supports transitions from Analog to Digital using IP Gateways.
Rebanding and Narrowbanding can also be carried out, without any downtime, using our range of Audio Bridges.
White Paper
VoIP for Radio Networks
Radio over IP (RoIP) adds significant value to Radio Networks. This White Paper explores the many benefits of this technology and discusses the range of differing applications in which it can be used.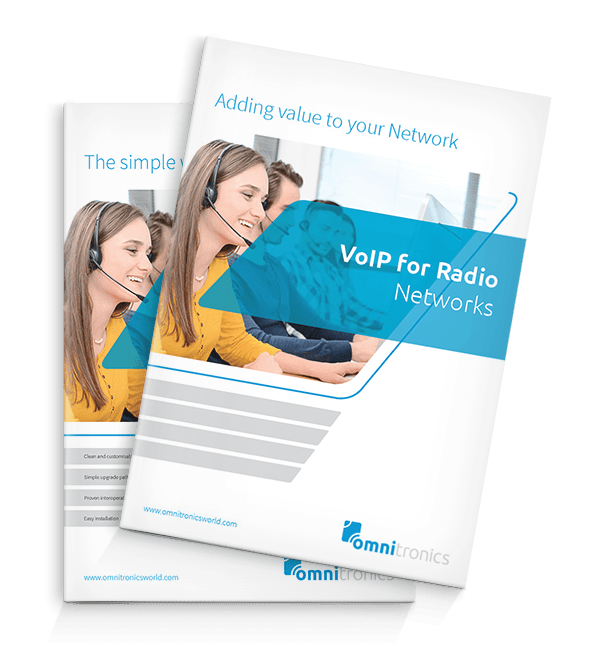 Ultimate Choice & Flexibility
In order to ensure that organizations can get the most from their radio network today and in the future, Radio over IP enables you to choose the best way of connecting your radio resources whilst supporting simple migration, radio interoperability and the many other benefits of Radio over IP.
We'll find the perfect system upgrade for you.
Were you to take inventory of all the radio equipment across your entire network, it's unlikely that a fully unified fleet of devices would be found. As the network expands, adding new users at various locations or even replacing old and unsuitable equipment, you may...
read more