Location Services
One of the exciting advances in digital radio technology is the ability to track your work force and assets using your radio communications network.
By extending this technology to your dispatching solution, dispatchers can quickly and effectively manage your teams.
However, integrating maps into a Dispatch Solution is fraught with hidden licensing costs and conditions. Omnitronics makes this easy for you by offering a range of options to suit your unique needs
Location Services Solutions
GPS Essentials
Quick visibility of your workforce in real-time – available as standard with RediTALK-Flex and Alto
Advanced Location Services
Provides advanced eatures such as Geofences, Speed Control, and Route History
Integration with Existing Maps
Contact us for further details
Interoperability Across Manufacturers & Protocols
All of this is made possible through the use of digital radio gateways: the DRG's convert data from multiple radio protocols and manufacturers to ensure compatibility and interoperability. This means you can combine the GPS data from several different radio sources onto the one map, simplifying dispatching operations and improving productivity & safety.
For example, at the control and command center for public safety, one organization's P25 data can be displayed alongside another services DMR data. The dispatcher can see all location information from all vehicles and personnel regardless of what protocol is being used.
Many standards do not include specifications for the transmission of GPS data meaning each radio manufacturer has established their own propriety method. Omnitronics has partnered directly with many radio manufacturers to ensure compatibility with our Location Services solutions.
Designed for Your Unique Needs
Omnitronics understands that each organization is unique and therefore has unique requirements for what and how GPS information is presented. As such the Advanced Location Services can be customized to suit these needs. Contact your local sales representative to discuss further.
Let us know how we can help you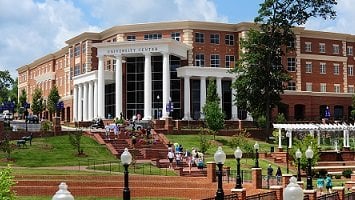 Recognized as one of the best colleges in the south, High Point University (HPU) is a private liberal arts university in North Carolina, USA. With over 4800 students, the university takes security of its grounds seriously, as recently demonstrated by its upgrade to...
read more