Case Study
Radio Dispatch System Managing Operator Loads Through Data Insights
Tasmanian Ports Corporation Pty Ltd (TasPorts) is an Australian state-owned company responsible for 11 Tasmanian sea ports and the Devonport Airport. They have successfully been using Omnitronics Dispatch systems for decades.
When TasPorts found out that its current Omnitronics DX-64 Dispatch Management System was End of Life, the team knew that Omnitronics dispatch was again going to be their first choice.
Business Benefits
Centralized On-the-fly Updates To All Consoles
Advanced Reporting & Analytics
The Challenge
Cost Effective as Well as Technologically Advanced System Needed
The existing Omnitronics system supported 21 repeaters and 7 dispatchers across 2 locations, the Launceston State Operations Center and Port of Bell Bay.
Eventually there would be need to cater for 28 channels in total. The company was looking for a solution that was cost effective as well as technologically advanced.
Business Needs
Requirements
Tasmanian Port is using VHF Marine analog radio that is connected via IP. They wanted an easy to
manage and easy to maintain dispatch management system, that would instantly update changes from a central location across all consoles in both of their Vessel Traffic Service (VTS) Centers.

In addition, the new system needed to be mission-critically reliable as Maritime navigation and distress calls are also managed by the operators. Ideally, they preferred applications that would run on commercial off-the-shelf equipment and operating systems.
Product Focus
omnicore Enterprise Dispatch
Contacts
Automagically centralize yourcontacts databases into one
Easy to Use
Touchscreen interface with a configurable layout
Location Services
Geofencing, alarms, route playback
Reporting
Sophisticated reporting and analytics into existing systems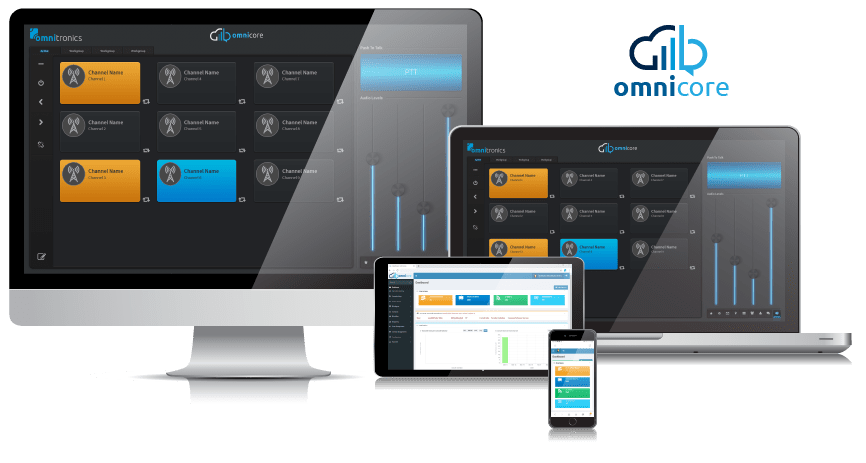 On-the-Fly
Central changes are instantly updated
Interoperability
Interconnect people, protocols, technologies & manufacturers
Connections
Full digital & legacy analog radio systems, phone, paging, SIP
High Availability
Fully redundant, data replication, clustering & 24/7/365 Support options
The Setup
Network Diagram
Case Study
TasPorts Manages Operator Loads Through Dispatch Data Insights
Tasmanian Ports Corporation
The Solution
Meeting Current and Future Needs With Proven Technology
TasPorts chose the Omnitronics omnicore Enterprise Dispatch Management System, not only because it meets their needs of current and future functionality, but also because it is based on proven technology of DX-Altus and RediTALK-Flex radio dispatch. The interface setup of the previous system was able to be replicated and within 20 minutes of omnicore going live, the operator was able to competently interact with a vessel on the new console.
omnicore dispatch enabled TasPorts to implement their own High Availability (HA) solution across two locations and on their own servers as Virtual Machines (VMs). With two servers, one in the Launceston State Operations Center and one backup server in Bell Bay, TasPorts is able to communicate to their 13(15) remote sites scattered across the state from either of their 2 dispatch locations. Three operator consoles, including one supervisor station are used at their central Launceston VTS, now upgraded to omnicore. Another omnicore Dispatch Management System is fully operational at their Bell Bay center. In addition to the redundancy of the servers, omnicore consoles support High Availability even further. Each console can continue to operate in the unlikely event that both servers are down.
Where in the past the team had to rely on anecdotal data to know that one geographic region, known for its rough weathers, has a higher incoming call volume than other regions, the supervisor can now quantify these through integrated reporting of relevant metrics and they are able to take early action to manage operator load and other resources.
TasPorts also benefit from the option to utilize Rapid Recall on a choice of one or more channels, where previously only all channel Rapid Recall was possible. Combined with an easy to manage and on-the-fly updating using the centralized server system, TasPorts reported a smooth transition with minimal downtime.
Testimonials
Hear From Our Customers
"I played a bit with the test install before Omnitronics came in to install our new system. It was so easy to set up, that when they arrived only 45min later, I had almost finished."
Ben Stoffelen, IT Network Administrator Tasmanian Ports
Conclusion
High Level of Self-Sufficiency in Supporting Their User Requirements
The transition to a new high-tech dispatch system was seamless and much of the install was able to be carried-out by TasPorts with help from Omnitronics. Many of the new features of omnicore will be valuable in enabling console operators to process voice calls and assisting supervisors in managing their dispatch resources and workloads.
As the system is COTS VM based, the TasPorts IT team will retain a high level of self-sufficiency in supporting their user requirements and expanding for future needs. Of course, Omnitronics will be on hand to provide support and training, as required.
We'll find the perfect system for your individual needs.
Case Studies
Similar Success Stories
This FREE session explores features and functionalities of omnicore Enterprise Dispatch and how it can be used to deliver a robust and ...
read more