Government and Military

Government and Military responders rely on radio communications systems to carry out their mission of protecting our citizens. These departments have the common goal of communicating across large geographical distances and terrains seamlessly and with a high level of confidence and security. This calls for a reliable radio network that can be bridged to span great distances and can be accessed through available technologies such as VoIP. In addition, the need for inter-agency cooperation requires a network and dispatch equipment that interfaces with multiple manufacturers and that can be configured to suit the region of activity and scope of operations.
Control room staff and radio operators need to communicate with operations and field staff in a simple and intuitive manner, controlled from a reliable and efficient radio management system.
White Paper
VoIP for Radio Networks
Radio over IP (RoIP) adds significant value to Radio Networks. This White Paper explores the many benefits of this technology and discusses the range of differing applications in which it can be used.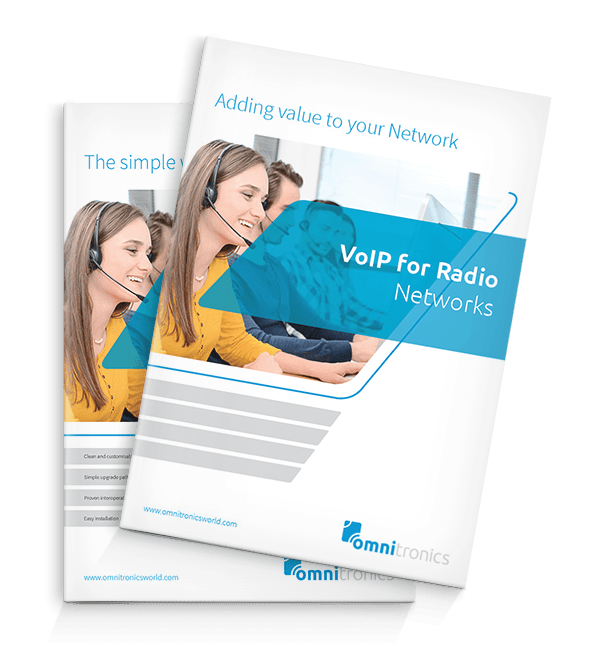 Omnitronics provides a number of solutions to meet these needs:
The 619 Range of Audio Bridges enables interoperability between frequency bands and provide a simple way of rebanding and/or narrowbanding a network. For example, our Audio Bridges have been used to integrate Marine Band, Air Band and UHF/VHF communications for military trials.
The IPR Range of VoIP adapters/gateways for connecting existing Analog Equipment via an IP network and providing the number of benefits RoIP gives organizations.
The DRG Range of digital radio gateways for added security, flexibility and interoperability on digital radio networks.
The DX-Altus Radio Management System which provides phased upgrades from analog to digital protocols, interoperability between protocols and complete redundancy, amongst many other benefits.
The DX-Altus also compatible with digital features such as GPS Tracking, Lone Worker and Rapid Recall. All important features to ensure a safe and efficient mission.
RediTALK-Flex dispatch console for small to medium sized dispatch centers who want the powerful functionality of digital radio and the flexibility of RoIP but without the complexity of a server.
The types of organizations Omnitronics can provide solutions for includes:
Homeland Security
Military
Air Force
Government Departments
Federal Government
For examples of our solutions, see our Case Studies.
We'll find the perfect system for your individual needs.
The Florida National Guard installed a Tait P25 system. As part of the upgrade, they also installed Omnitronics RediTALK consoles in order to maximize their use of radio network resources. RediTALK was chosen due to its advanced digital radio feature set and its...
read more