omnicore Enterprise Dispatch
Installed at DBCA Control Center
Installed at DBCA Control Center
Installed at DBCA Control Center to Manage State-Wide Communications
omnicore Dispatch Connects Remote Sites via IP Across
Statewide Radio Network
The NEW Scalable Enterprise Dispatch Management System omnicore has been installed in the DBCA Control Center in Perth, Australia, connecting a growing number of remote sites in Australia's largest state.
The Department works to conserve and manage the state's biodiversity, cultural and natural values and provide world-recognized nature-based tourism and recreation experiences.  Its responsibility include botanic gardens and parks, national, marine and river parks, Quokka-famous Rottnest Island, Perth Zoo and other natural environments in Western Australia (WA), the state making up one-third of Australia's total landmass.
omnicore was developed around the dispatch requirements of radio systems that need to connect large numbers of sites over vast distances using Radio over IP technology. Coupled with IPR400 S2 Interoperability Gateways and IPR110+ RoIP Gateways, analog radio and digital technology seamlessly work hand-in hand.
The team at Omnitronics highly value the long-standing relationship with the department responsible for managing Western Australia's natural icons, attractions and sustainable future.
"It fills us with pride knowing that our latest state-of-the art technology connects people across the most beautiful and often remotest of locations and harshest of environments. From ancient Aboriginal sites to magnificent natural habitats, clear ocean waters and the vast outback. No matter where in WA you are, with Radio over IP you are only ever one PTT away," states Senior Communications Consultant Micheal Parker.
omnicore Scalable Enterprise Dispatch is available to global customers in government, public safety, enterprise, mining, maritime, transport, and other mission-critical industries immediately.
Enterprise Radio Dispatch Management
omnicore
The Easy to Use and Flexible Stand-Alone Dispatch Software. Deploy in the Cloud, on Site, or in a Data Center.
We'll find the perfect system for your individual needs.
Success Stories
Radio Dispatch Case Studies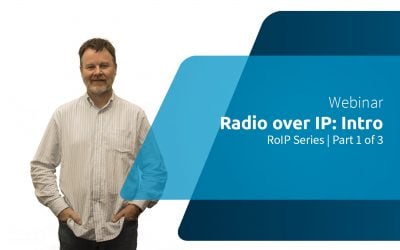 The first in our RoIP series, this FREE Webinar session explores Radio over IP technology and its uses.
In this complimentary webinar, you will learn the fundamentals of Radio over IP and gain a solid understanding of what the technology is and why it is so important in the radio communications industry.
In the second in our 3-Part RoIP series, you will learn some of the more commonly encountered issues with Radio over IP.
This Webinar will build upon the foundations learnt in the first session and is also suitable for those with an existing understanding of RoIP principles.
The final in our RoIP series, this session explores some of the more complex applications of the Radio over IP technology, including its uses in digital radio and console dispatch.
This Webinar will build upon the foundations learnt in the first two sessions, as well as taking a look at some of the more complicated applications.