Dispatch and Networking Solutions for Tait Radios

As an official Endorsed Technology Partner of Tait, Omnitronics has developed an interface for a wide variety of Tait technologies including Analog, DMR Tier 2, DMR Tier 3 and P25.
Our powerful interfaces add significant value to your radio network by:
The list of compatible Tait radios is as below*:
TM81xx Analog, MPT, MPT-IP
TM91xx P25 Phase 1 Trunked (via donor radio)
TM94xx P25 Phase 1/2 Trunked (via donor radio)
TM93xx Analog conventional, MPT1327 trunked, DMR tier 2  conventional, DMR tier 3 trunked
The following Tait wireline (TCP/IP) interfaces are supported*:
TN9300 AIS for MPT-IP, DMR tier 2 conventional and DMR tier 3 trunked
TN9400 CSSI for P25 trunked
TB7300 DFSI for P25 conventional
TB9100 DFSI for P25 conventional
TB9400 DFSI for P25 conventional
The list of compatible radios and interfaces is constantly growing. Contact your local sales representative for the most up to date list.
White Paper
5 Questions to Ask Before You Implement a Dispatch Solution with DMR
Before finalizing your network design, it is important to consider your dispatch console system and how best to integrate this as part of the overall solution. There are five key questions that should be asked to ensure you get the most out of your network and maximize the return on your investment.
We'll find the perfect system for your individual needs.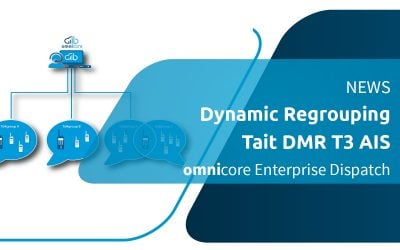 Omnitronics is pleased to announce the release of Dynamic Regrouping functionality for Tait DMR T3 Networksomnicore Enterprise Dispatch now includes Dynamic Regrouping functionality for Tait DMR T3 networks via AIS.Omnitronics omnicore Enterprise Dispatch consoles are...
read more