WEBINAR | RoIP Series 3/3
Advanced Applications of RoIP
Webinar
Advanced Applications of RoIP
The final in our RoIP series, this session explores some of the more complex applications of the Radio over IP technology, including its uses in digital radio and console dispatch.
This Webinar will build upon the foundations learnt in the first two sessions, as well as taking a look at some of the more complicated applications.
Meet Your Presenter
Paul Whitfield
Research & Development Manager
Paul brings to Omnitronics more than 30 years of experience in developing embedded software across several industries, including rail, mining, power, banking and communications.
Over the years his ingenuity has shaped a number of radio & communications products to world class standard, including as Team Leader Embedded Development for Omnitronics Radio over IP products and Digital Radio Interfaces.
Currently, Paul leads the Innovation and New Product Development teams at Omnitronics.
What We'll Cover in This Session
Multicasting & Conferencing
Mission Critical Push To Talk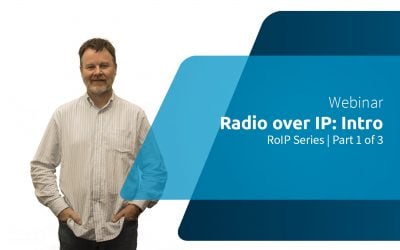 The first in our RoIP series, this FREE Webinar session explores Radio over IP technology and its uses. In this complimentary webinar, ...
read more
In the second in our 3-Part RoIP series, you will learn some of the more commonly encountered issues with Radio over IP ...
read more