What is RoIP and Why is it Important?
Given the popularity of voice over internet protocol (VoIP) solutions available to businesses and individuals today, it's a good bet you are familiar with how much digital technology has impacted our communications.
Whether it's through popular internet-based phone systems such as Skype, or any number of mobile messaging apps that feature calling functionality, it's possible the traditional landline telephone has been erased from your life altogether.
There's more to communications than just phone calls, however, and for dispatch operators around the world, the benefits of digital radio may not yet be fully understood.
Just like its VoIP counterpart, Radio over Internet Protocol (RoIP) has fundamentally altered the efficiency and effectiveness of radio communications.
At its core, RoIP is the integration of VoIP technology in two-way radio. Rather than transmitting voice data through traditional means – signals sent through a network of transmission towers and expensive copper lines – RoIP harnesses the power of the internet to send data from one user to another. Offering a cost-effective way to interconnect radio systems and operators together, the technology not only delivers greater reliability than existing radio communications networks, but enhances and adds value thanks to additional features not previously possible. These benefits arise from the ability of digital technology to utilize existing IP infrastructure that makes up both local and wide area networks. Just as VoIP technology has allowed users to communicate with people in any location more easily (and affordably) than ever before, RoIP offers a huge array of benefits to organizations who adopt the solutions.
RoIP Benefit #1: Lower Cost
RoIP is the
most cost-effective way to interconnect radio systems and operators
, while also enhancing functionality and user experience. This includes:
Integration with existing IP infrastructure (either LAN, WAN or VPN): Removing the need for additional installation and maintenance of the network architecture.
Availability and decreased cost of equipment: Not only is RoIP equipment becoming more accessible and affordable, but often systems can be crafted to include common off-the-shelf hardware like routers and switches.
Leased line replacement: Remove the monthly fees associated with dedicated voice paths offered by telecommunications service providers
Shared resources: Therough the use of an IP gateway with digital radios, protocols can be shared amongst a number of operators removing the need for point-to-point protocols and vocoders at every operator position.
Choice of radio provider: with iteroperability features, you are free to choose the radio manufacturers and protocols that offer the functionality you require and that meet your budget.
Read more about the cost saving benefits of RoIP here.
RoIP Benefit #2: Improve Reliability
Radio network reliability is crucial for mission critical communications making the resilient infrastructure of an IP network one of it's most important features. With RoIP, networks are no longer subject to a single point of failure, resulting in much less downtime.
RoIP Benefit #3: Increased Productivity
Radio over IP enables organizations to design a radio network infrastructure that suits their needs. This includes:
Remote management
Centralized configuration & maintenance
Centralized command & control
Local incident response
Regional command centres
White Paper
VoIP for Radio Networks
Radio over IP (RoIP) adds significant value to Radio Networks. This White Paper explores the many benefits of this technology and discusses the range of differing applications in which it can be used.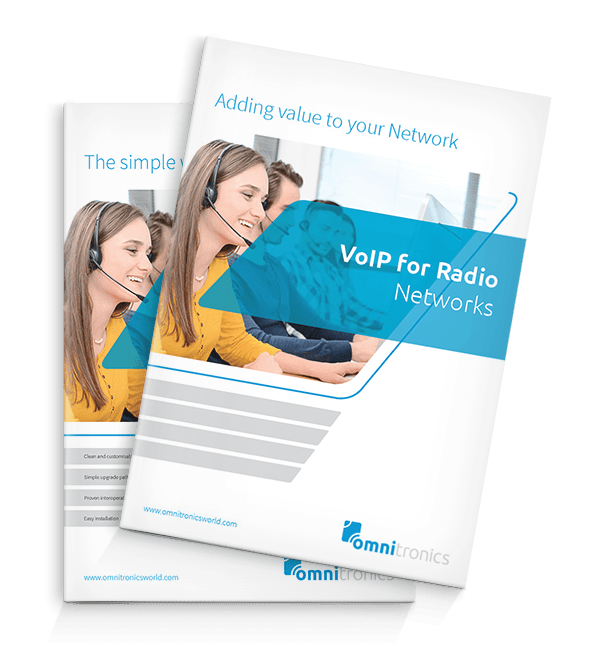 RoIP Benefit #4: Flexibility
All of these benefits of RoIP have one key thing in common: flexibility. But this flexibility extends much further:
Connecting multiple sites over wide geographical areas
Easily adding additional locations and gateways – including for mobile teams for incident response
Enables staged migration from analog to digital radio
Learn more about the Flexibility of RoIP here.
RoIP Benefit #5: Interoperability
As a company grows and expands its fleet of devices, radio equipment tends to consist of a number of different devices. Adding new users to the network or replacing damaged equipment can lead to a varied cache of radios from a range of manufacturers. In this scenario, complications can arise about the compatibility of one device's features with another. However, RoIP allows the interconnection of a mixture of radio types and manufacturers. RoIP for digital radio can bring together the various devices, allowing you access to their features and communicate with all users. It also means you are not limited to a certain range when you are expanding your device population, allowing you to choose the radio manufacturer that offers the functions you need. A RoIP gateway can be added to boost interoperability, allowing your network to access innovative design features, such as location services.
Additional Features Available Through RoIP Connectivity
There's little argument that the benefits of RoIP make it a smart investment for any dispatch operators, but it's the
flexibility and interoperability
that makes it a truly revolutionary innovation. Depending on the particular solution that your organization chooses, there are many additional features that can be utilized with RoIP connectivity. By bringing an IP gateway into the dispatch system, for example, operators can connect themselves and anyone else using a PC-based console to multiple types of radio. The DRG range of digital radio gateways allows a variety of digital protocols to be programmed into it, connecting conventional, trunked, open-standard or proprietary radios to the network. With an IP gateway, the need for backroom equipment to connect dispatch consoles and analog radios is also eliminated, meaning less hardware investment is required to deliver top-tier performance.
We'll find the perfect system for your individual needs
Options
Gateways for Digital & Analog Networks
Whether you using digital radio technologies such as DMR, IDAS, MotoTRBO, Nexedge, P25 or Tetra, or you require IP connectivity for your analog networks, we have the solution for you.
Best RoIP Vendor
3 Reasons Why You Should Choose
Omnitronics

RoIP Solutions
15+ years of connecting radios using
Radio over IP
One of the first in the world to develop RoIP technology
Customized RoIP Features
We can customize to suit your applications with our clever team of RoIP engineers
Case Studies
Similar Success Stories
Omnitronics Receives Prestigious ARCIA Industry Excellence in Local Manufacturing Award with their powerful digital radio gateway - DRG ...
read more