Custom Project Feature
Vehicle Speaker Selector System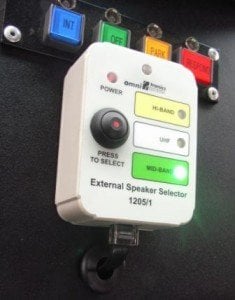 Omnitronics
has designed a speciality Vehicle Speaker Selector System (VSSS) for the Department of Fire and Emergency Services (DFES) in WA.
An example of some of the custom engineering work we can do, the VSSS is installed in every DFES vehicle across the state. It enables the driver to select which radio from a choice of 3 they wish to listen to on the outside speaker of the vehicle.
Additionally there is a failover mode back to the primary radio if there is an outage. This enables the field officer to listen to the most relevant information for their role and location whilst ensuring optimum safety.
today if you are interested in some Custom Project work.