Connect more in more ways
Overview
Why Radio over IP (RoIP)?
Radio over IP (RoIP) leverages modern digital technology to offer a cost-effective means of interconnecting radio systems and operators. It is a solution that enhances and adds value to both existing radio communications networks, and newly established channels.
Transitioning to RoIP offers some tremendous benefits to organizations that rely on two-way radio communications, which can easily be obtained on either legacy analog networks or digital through the use of IP gateways for radio.
Video
Benefits of Radio over IP
What is Radio over IP? See how RoIP can decrease costs and increase flexibility.
Gateways for Digital & Analog Networks
Whether you using digital radio technologies such as DMR, IDAS, MotoTRBO, Nexedge, P25 or Tetra, or you require IP connectivity for your analog networks, we have the solution for you.
Ultimate Choice and Flexibility
In order to ensure that organizations can get the most from their radio network today and in the future, Radio over IP enables you to choose the best way of connecting your radio resources whilst supporting simple migration, interoperability and the many other benefits of Radio over IP.
Encrypting Made Easy
RoIP Gateways for Secure Communications
Omnitronics RoIP Gateways are not only powerful and easy to install, they also provide security of information. 
Save on Cost
 Increasing interoperability of a network helps generate gains across productivity, time and other network resources.

Use Existing Systems
Migrate existing analog or digital radio systems without the pain that usually comes with upgrades to the new technology.

Secure Encryption
Worried about security of communications? Omnitronics RoIP Gateways offer built-in encryption, protecting against unauthorized access and eavesdropping.

Flexible
Scaling up has never been so simple: Shake off the limitations of a Telco network with the power of IP!
Omnitronics gateways support a multitude of protocols and communication methods and can be setup anywhere – they're no longer restricted by a physical cable.
Compatible
Connect with standard off-the-shelf hardware and industry standard management tools.
Omnitronics RoIP gateways make it so easy to build and manage networks without relying on proprietary Telco equipment.. 

Reliable
Say goodbye to service interruptions!
RoIP gateways can build in redundancies and back-up paths – increasing availability and reliability of the network. 

White Paper
Understanding RoIP Networks
Radio over IP differs from Voice over IP technology in a variety of ways. This White Paper explains those differences and the various considerations the IT team and systems integrators need to understand in order to create effective RoIP networks that meet their needs.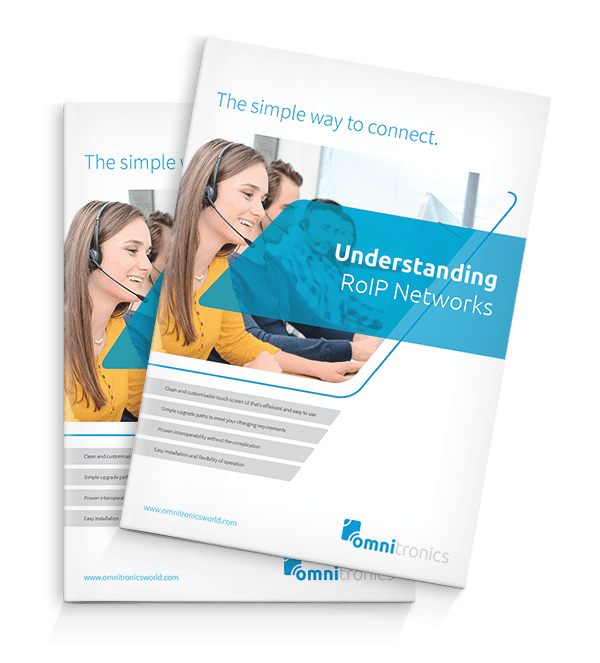 Benefits of IP Gateways for Digital Radio
While digital radios can directly connect to IP networks, including a gateway provides a number of benefits to digital radio networks including cost efficiencies, flexibility and security.
Why Choose Omnitronics?
Omnitronics are global leaders in digital radio technology, and have developed our RoIP solutions to deliver effective, efficient performance for complex organizations. We support multiple connection methods – including Multicasting, Unicasting, SIP and our unique Conferencing Mode – allowing our customers to choose the best method of connecting radio communications networks without causing issues with your IT network.
Our RoIP solutions support both dynamic and static addressing, and provide simple integration with digital or analog dispatch consoles. With over 35 years experience in the field, Omnitronics provides high levels of customer service to ensure you get the best from your devices.
We'll find the perfect system for your individual needs.
When filming the return of the popular expedition race TV show hosted by one of the world's most famous adventurers and survival instructors Bear Grylls, MGM prepared for shooting in the remote and challenging conditions of Fiji. The popular format of Amazon Prime saw...
read more