SIP OVERVIEW


SIP is an IETF driven protocol that has revolutionized telecommunications. It is a signalling protocol that controls multimedia communications sessions over IP. Its sole purpose is to negotiate, setup and tear down the sessions whilst the actual multimedia communications is carried-out by other protocols such as VoIP.
Historically, two-way radio was considered an adjunct to the corporate communications system and was treated as an independent system, isolated from the broader corporate communications infrastructure. To provide interoperability between users of the radio network and other communications systems (including other radio systems) required the installation of special bridging and patching equipment.
Whilst this works to a certain extent, it doesn't make it easy for an organization to streamline the flow of communications through-out its workforce. To enable an organization to achieve maximum levels of collaboration and productivity, it needs to unify its communications mediums, regardless of whether they are digital or analog radio, PBX, mobile phones or PC's.
However, just having "IP connected" radios doesn't mean that an organization can achieve unified communications. That's why SIP needs to be an integral part of VoIP gateways and adapters.
White Paper
Understanding RoIP Networks
Radio over IP differs from Voice over IP technology in a variety of ways. This White Paper explains those differences and the various considerations the IT team and systems integrators need to understand in order to create effective RoIP networks that meet their needs.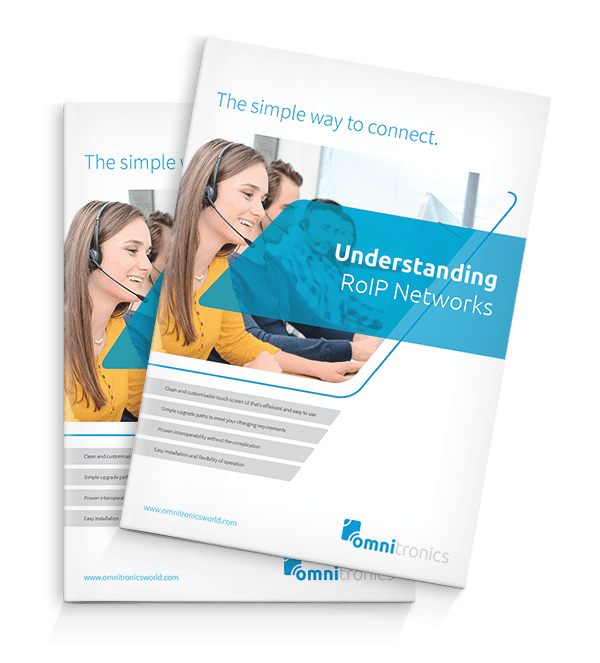 Benefits of using SIP with Land Mobile Radio:
1. Able to Interact with Broader Communication Mediums
Radio over IP gateways/adapters that are SIP compliant enable the connected radio system to interact with a broader range of corporate communications mediums, without worrying about proprietary technology. In such an organization, subscribers on handheld portables or vehicle mounted radios can communicate with people who are not normally connected to the radio network. As an example, calls can be made between radio users and office staff with SIP compliant telephones. More recently, there has been a proliferation of soft-phones that are also SIP compliant. Omnitronics is starting to see applications where this level of unified communications eliminates the need for office staff to be desk bound and dramatically increases productivity.
2. Offers Dynamic Configuration
Radio over IP devices that are SIP enabled provide greater flexibility within radio networks because SIP makes it possible to structure these networks so that they can be re-configured dynamically. This applies to both user calls and inter-site links. For example, radio calls can be made to specific destinations, on demand. This brings efficiency to a network from both the IP and radio traffic viewpoints. SIP also allows links between radio sites to be managed such that link paths can be re-configured to meet specific operating needs.
Contact us to learn more.
Designed for SIP
IPR110+ RoIP Gateway
The IPR110+ RoIP Gateway carefully combines VoIP & SIP technologies to enable dynamic connections to remote radios making radio communications more accessible and easy to use.
We'll find the perfect system for your individual needs.
Omnitronics Receives Prestigious ARCIA Industry Excellence in Local Manufacturing Award with their powerful digital radio gateway - DRG ...
read more