Customer Profile
City Council in Perth Western Australia
Application
Managing City Council Communication
Products Used
RediTALK-Flex Dispatch Console
Business Benefits
Reaching Business Goals
The Challenge
Customized Requirements
Delivering a consolidated, secure and reliable voice communications platform capable of providing real-time GPS location information was an important goal.
However, this seamless integration was not a lone requirement. As the City makes extensive use of historical operational information, the solution needs to integrate with their corporate management and reporting systems.
A customizable, interoperable platform to support their current and future initiatives was considered vital in helping them achieve the long-term goal of increasing operational efficiency and cost savings.
Product Focus
RediTALK-Flex
Interoperability
Connect technologies, protocols & vendors
Easy to Use
Clean & customizable user interface
Flexibility
Use the power of IP to connect & unify anywhere
Duress & Emergency
See who calls where and when
Geofencing
Easily set up zones & alerts to monitor movements
Radio Linking / Patching
Connect groups of radios in real time
Telephony
Receive, make calls & patch to radios
Location Services
Advanced people & asset tracking
The Solution
Customization to Suit the City's Needs
The City made the decision to upgrade its radio communications technology and selected Vertel, a leading digital radio network services provider, to commission a Tait DMR Tier-2 solution with integrated GPS.
RediTALK-Flex, Omnitronics' interoperable dispatch system and preferred DMR Tier-2 console solution for Tait Communications, was chosen to unify vehicle tracking and communications.
A number of RediTALK-Flex consoles were installed, allowing dispatch operators to manage, monitor and communicate with city resources through a single, easy to use interface.
Case Study
RediTALK-Flex

Provides a Unified and Interoperable Solution

City of Bayswater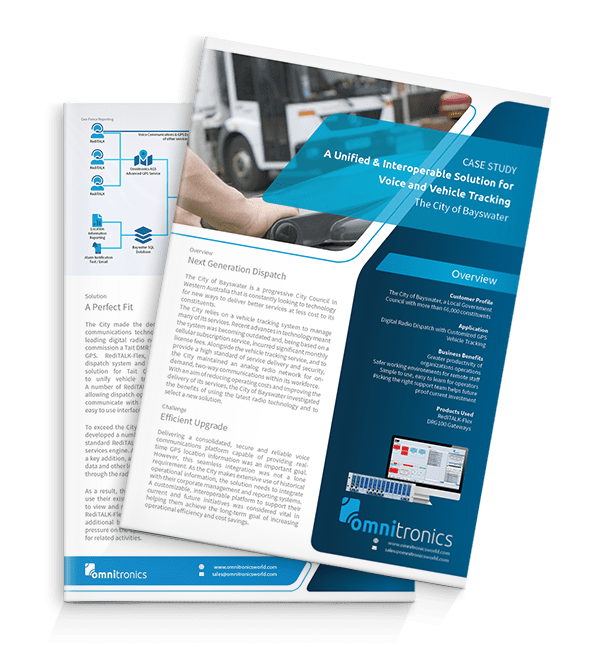 Conclusion
A Unified Solution for Voice Communications & Vehicle Tracking
The console dispatch system was the final stage of a phased upgrade to the city-wide communications network that began in 2015. Omnitronics ability to work with a customer to customize the right solution was a key factor of the selection process.
DMR supports real-time location tracking, but the true benefits of this functionality are only realised with the integration of a value-adding dispatch console like RediTALK-Flex.
The City now has a unified solution for voice communications and vehicle tracking that satisfies their needs both now and in the future. The system will help the City of Bayswater improve productivity, increase the safety of personnel in the field, and deliver a higher quality of services
to the 66,079 residents who reside within the city's boundaries.
The City will continue to drive improvements in the quality and efficiency of their services, and having partnered with Omnitronics, have chosen a technology partner to support their future initiatives.
Case Studies
Similar Success Stories
The Village of Melrose Park Departments of Homeland Security and Public Safety are based in Cook County, Illinois, a suburb of Chicago. ...
read more