For smaller applications where multiple operators need to access up to three radio channels. Omnitronics cost-effective range of handsets and consoles can provide functions such as channel selection, remote channel change, Selcall encode and decode and trunked radio operation.
Handsets & Plinths

 960HC
The 960HC provides a simple mean of connecting to your radios. It comes complete with In Built Speaker, Conference Microphone, Intercom and PTT Switch. it can be Desk or Wall mounted.  

Plinths
Compatible with 960 Series handsets, the 960 series of plinths come in the below variations:
960PS – Speaker Extension
960PE – Speaker Extension with Individual Volume Setting and Cross-Muting
960PM – Provides Control of up to 3 Channels
Consoles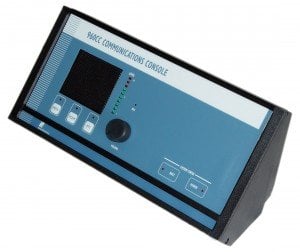 960CC
The 960 CC includes an In-Built Speaker, Microphone, Intercom and Connections for external Desk Microphone, Headset and Footswitch. It has an LED Display and Programmable LED Sequences and Tone Melodies.
960CSD
The 960CSD has all the features of the 960CC plus a Display Screen, SELCALL, ANI, DTMF and CP960 Programmer for Windows  
960C3 Channel Controller
Offering control of up to three individual channels, the 960C3 Channel Controller is ideally positioned between a simple 960 Series Peripheral/900 Series Interface combination and the 960 Radio Management System.
We'll find the perfect system upgrade for you.