Advanced Location Services
Key Features
With the introduction of
Advanced Location Services
,
Omnitronics
customers can now get greater value from the GPS data that their digital radios provide.
Advanced Location Services interfaces directly into the GPS Essentials map (that comes as standard in RediTALK and omnicore) to bring together dispatch and GPS tracking like never before.
For the majority of the time, dispatchers can work purely from the RediTALK or Alto screen. If geofences are required to be setup or if historic data needs to be sourced then they can do this from the ALS Viewer. This article provides a summary of the key features you can expect.
Various
Configure Geofences
Various Geofence types can be configured to suit operational requirements. These include No Go, Speed, Yard, Site, Confinement, Blast and Emergency. Once a geofence has been setup via ALS Viewer the information is stored on a central database and accessed from all users.
View
Playback Location History
Using the event history log in ALS Viewer, dispatchers can select a radio ID and date & time and retrace that user's steps including a breadcrumb trail on the map.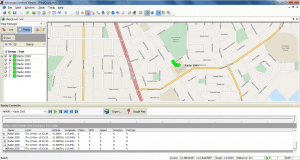 Configure
Custom Warnings
When an event occurs, such as a radio user entering a No Go Zone various tasks can be triggered within RediTALK or Alto. For example, an event can be designated as "Urgent", "Warning" or "Information" and then appear as one or more of a Pop-Up Warning, in the Events Log, in the message queue or on the GPS Essentials map itself.
Based on Operational Procedures, when an alert is received dispatch operators can take immediate action. There is no need to switch between screens. They can simply hover over the radio location on the map within RediTALK or Alto and call the radio or send a message. They can then monitor the radio user to ensure relevant action is taken.
Using the AGS Event History queue within RediTALK and Alto, operators can get a picture of all recent activity across the network. This is especially useful in situations that are not as urgent as those requiring a pop-up warning but still important like keeping track of traffic between a work site and your yard.
These highlighted features of Advanced Location Services will greatly assist organizations in streamlining their dispatch operations.  To learn more about how Advanced Location Services can add value to your radio network, contact our sales team.