omnicore Radio Dispatch System
omnicore Radio Dispatch System Keeping Staff and Patrons Moving
Reseau de transport de Longueuil (RTL), the City of Longueuil's transit corporation, offers bus services, including school lines, shared taxi services and paratransit to commuters across the five cities that comprise the Agglomération de Longueuil in Quebec, Canada.
A fleet of 600 buses operating from 2 hangars needed to upgrade their radios and Radio Dispatch Management System as the existing custom developed system, that has served them for 25+ years, has become End of Life.
Customer Profile
City transit with fleet of 600 buses and 2 hangars
Application
Managing Urban Transport Communications
Products Used
omnicore Enterprise Dispatch System
DRG100 Digital RoIP Gateway
The organisation's streamlined processes meant that their dispatch system of choice needed to fulfil very specific industry requirements, something that many popular dispatch systems do not offer. In addition, the capability to fully customise a dispatch system to organisational processes is not commonly offered by the major Dispatch Console manufacturers.
System Selection
Requirements
RTL were looking to integrate intelligence from their existing custom developed transport activity
management system to deliver invaluable driver and vehicle data directly to console operators with updates every minute.
Moreover, a highly advanced Call Queue functionality and the ability to dynamically create radio talk groups on a Tait DMR T3 radio system were further requirements.
Future-Proof
The Solution
Following a call to tender, RTL turned to Groupe CLR for advice and installation of the new system, who recommended omnicore Enterprise Dispatch as part of their proposed solution. Groupe CLR's engineers were able to use their own Common Off The Shelf (COTS) server solution levering both Microsoft clustering with a backup virtualised server. In addition to a high degree of server redundancy, the omnicore design also provided a high degree of natural resilience. With omnicore, consoles connect directly to the radio gateways, irrespective of the server connection status. In the unlikely event that the server or connection to the server was to fail, the 7 dispatch consoles can continue to communicate across the 11 Talkpaths for a period of up to 48 hours. With omnicore Dispatch; if the server connection is lost, critical voice services continue to function.
The omnicore licensing model is both highly efficient and also cost effective for our users. For RTL, up to 20 dispatch operators must work across 2-3 shifts, utilising only 7 console licenses. This can be achieved thanks to the floating license model that only requires concurrent users to have an active license (versus a requirement for each user to have their own dedicated license).
Dispatch operators not only manage communications for their fleet of 600 buses, but also with supervisors on the road, maintenance personnel, as well as security across the city's bus network.
Dynamic Regrouping, or the ability for console operators to easily and quickly setup contacts groups "on the fly", is a functionality commonly required by the Transport industry. RTL were however, hard-pressed finding a provider that could offer this functionality with their Tait DMR Tier 3 radio system leveraging the AIS protocol.
Based on the request by Groupe CLR's team of experimented engineers, trusted partners Tait and Omnitronics worked together to develop Dynamic Regrouping on both the radio and the console side for the benefit of the RTL and Groupe CLR, as well as future Tait and Omnitronics users offering transportation services.
And with the ability for Omnitronics to offer software enhancements, the solution was customised to allow RTL to integrate their live data, MOMI database to omnicore Enterprise Dispatch. Database changes are updated every 60 seconds and include vital information for each driver contact. Additional customised features that were developed for RTL also included a specialized Call Queue tied to Status Messages received from radios in the field, Emergency Call requests and highly specialised Filtering.
Custom Developed Dispatch Feature 1
Call Queue
An important safety measure is the ability for bus drivers to request a callback by means of sending a DMR Radio Status Message to console operators. The priority for Radio Status Message numbers received and subsequent meaning, follow up action are configurable within the omnicore Enterprise Dispatch server and can display to the operator the terminal radio ID, time status message was received, GPS co-ordinates, current speed, in addition to other useful data. The assigned level of priority for received status messages, determines the position of the Callback Request within the operators' Call Queue and can range from a High Priority, i.e. in case of emergency to medium and low priorities like "running late" notifications, advising of traffic problems, etc.
These callback requests are sorted automatically, based on stated priority level and time since receipt within the Call Queue of each operator assigned to that bus route. Call Queue Items can be easily configured to display key data including a specific radio number or bus alias, the driver's name and registration number, the bus route and trip number, age of the Call Queue item and more. The provision of this real time data, directly to the console operators is both a massive time saver, helps to reduce the possibility for errors during busy or emergency situations and therefore can also assist with the critical task of staff safety.
Custom Feature 2
Emergency Call Requests
When the hidden Emergency button in a bus is pressed by a bus driver in the field, the radio sends an immediate Emergency Callback Request which then overrides all current console activities (other than an existing emergency call).
This workflow will initiate an instant individual call; a critical safety capability. In addition, console operators can also easily patch another radio to an emergency call, in the event that the assistance of additional personnel is required.
Custom Feature 3
Special Filtering
To allocate bus routes to individual dispatch console operators, and thereby assist with management of  operator workloads, an enhanced contact and radio filter was requested by RTL.
This capability was created by the Omnitronics software development, with a customized filter to allow for selection of contacts or radios by filtering of assignments, trips, routes or even bus registration number.
Custom Feature 4
Dynamic Regrouping
Console Operators can easily make calls to drivers in talk groups that are allocated dynamically from the dispatch center rather than having to be pre-programmed within the radio.
This functionality makes it easy for the operators to group radio users together "on-the-fly", whilst allowing the creation of temporary ad-hoc groups as well as mega-groups consisting of multiple talkgroups.
The Dispatch Solution
Network Diagram
Product Focus
omnicore Enterprise Dispatch
Contacts
Automagically centralize yourcontacts databases into one
Easy to Use
Touchscreen interface with a configurable layout
Location Services
Geofencing, alarms, route playback
Reporting
Sophisticated reporting and analytics into existing systems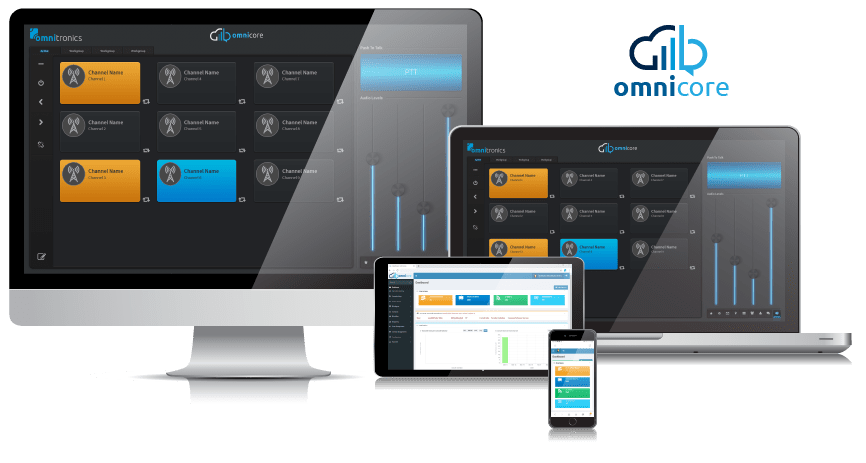 On-the-Fly
Central changes are instantly updated
Interoperability
Interconnect people, protocols, technologies & manufacturers
Connections
Full digital & legacy analog radio systems, phone, paging, SIP
High Availability
Fully redundant, data replication, clustering & 24/7/365 Support options
Safety & Productivity
Conclusion
As the backend server architecture is COTS based, the City of Longueuil will retain a high level of self-sufficiency in supporting their current user requirements and also will maintain a higher degree of flexibility as their future requirements evolve. As the organization grows, they will be able to easily add additional operators and talkpaths to the system. RTL will benefit from future enhancements, new features added within omnicore Enterprise Dispatch  at no additional cost, as an inclusion of the provisions included under the omnicare Premium Support and Maintenance Plans. This will help RTL future-proof their omnicore system, evolving in functionality to meet their immediate and future needs.
We thank our partner Groupe CLR for their expertise in the development of this solution for RTL, the successful installation of said solution, and the ongoing support of the system.
We'll find the perfect system for your individual needs