Custom Engineering Capabilities



Mission Critical Communications
Mission Critical Communications
Mission Critical Communications Experts For 40+ Years
Industry Specialist
Custom Features for Radio Dispatch and Radio Gateways
Omnitronics has extensive experience in the design, development and production of products that utilize or combine a range of technologies including the following.
12V and 24V Sourced Power Supply Systems
Including Switchmode, Up/Down Converters, SEPIC and Linear Regulated Power Technologies.
All power supplies have on-board protection for harsh environments and protect against fluctuations, electrical interference and noise.
Remote (Radio) Control
Field-proven products for Industrial Radio Control, Radio Control Interfaces and Remote Controlled Interfaces. Using externally sourced radio modules to interface with the boards, the radio modules are selected to suit the client's application and regulatory requirements for range, frequency and power.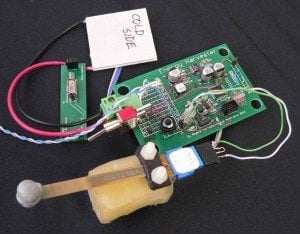 Wired Communication Interfaces
We provide a choice of various Protocols and Interfaces to suit the client's needs including Modbus, CAN for Automotive Applications, Dedicated Radio Interfaces, Serial Comms (RS232), Ethernet and more.
Human Machine Interfaces (HMI)
Including Joystick Control, Graphic Displays, LED indicators, LCD displays, Pendant Control and more depending on the operators requirements.
Sensing, Monitoring & Instrumentation
All interface products have Digital and Analog inputs to suit the application, whether it be for Measuring, Detection, Alarms & Early Warning or Logging & Management. Input protection against Electrical Interference & Noise (EMI & RFI) is also included.
Outputs for Drive, Load Control & Switching
Interfaces include Actuators, Solenoid (Hydraulic) Valves, Coils and Relays which can be achieved via FET, PWM or Digital and Analog circuitry as required. The outputs can be high or low current. Reliability of output drive status is guaranteed with Disparity Checking. Output Protection and Short Circuit Protection is provided for use in harsh environments.
On-board Processing & Software
Products include real-time, on-board controllers for processing information and controlling the I/O.
Omnitronics also provides a software library/interface to make it easier for the client to write their own application in C, according to their needs. This ensures quick and easy adaptibility.
Control Systems
Omnitronics have developed a variety of control system solutions in a variety of fields including industrial process control, dynamic feedback control systems and vehicle guidance. Our extensive experience includes resolving control loop problems related to noise, instability, inaccuracy, overshoot, disturbance rejection etc.
Additionally, we can develop non-linear simulation models for the advanced analysis & prediction of system performance and navigation applications using GPS location data & inertial sensors.
Audio Processing
Including a diverse suite of products which uses Audio Signal Processing such as for VoIP.
Want to Know More?
Click here to learn more about our Custom Engineering Process

Click here to see some Example Projects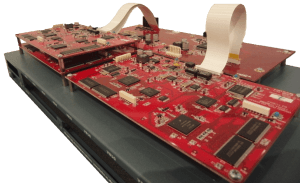 We'll find the perfect system for your individual needs.