The quantum leap in mission-critical dispatch.
The brand new omnicore console is the next generation in scalable enterprise dispatch management and can be hosted on site, in the cloud or data center.  An evolution of popular Omnitronics radio dispatch technologies altusomni and RediTALK-Flex, omnicore combines the best of both worlds and is a flexible, easy to use system for small organizations and large enterprises alike.
For peace of mind, the upgrade to omnicore is easy: it is compatible with existing tried and proven Omnitronics gateways and features omniconnect interoperability for those wanting to connect people, technologies, protocols and manufacturers.
Ideal for small organizations to large enterprise scaling beyond 100 operators and/or 200 channels, omnicore has the flexibility to grow with demand. No ifs, ands, or buts.
omnicore will include support for the Kenwood NXDN wireless communications systems through the NEXEDGE IP Console Interface. Dispatchers will be able to communicate over both Trunking and Conventional systems with access to all of the available digital radio features including GPS.  
Flyer
Why altusomni?
Enterprise dispatch and business analytics for mission-critical environments.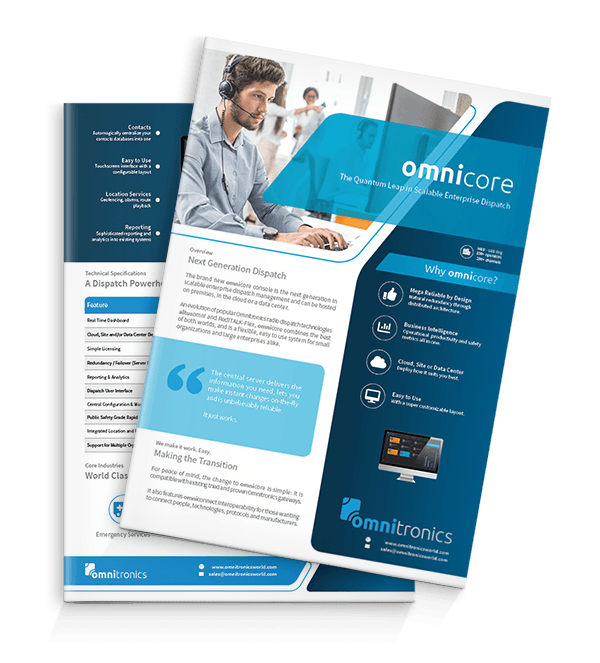 Business Intelligence
Big data enterprise reporting with dashboards, system and performance analytics. Supercharge your incident or accident insights. Operational productivity and safety all in one system.
Deploy Your Way
omnicore can be deployed virtually on site, in the cloud or a data center – no need for additional hardware that has to be maintained and/or replaced. 

Mega Reliable
Natural redundancy included through distributed architecture. Thumbs up to unparalleled reliability.
Easy to Use
The sleek and easy to use operator interface makes it a breeze for casual and daily users alike. The design is touch screen friendly with a configurable layout. 

Can't Find What You Are Looking For?