The Quantum Leap in Scalable Enterprise Dispatch
Overview
Why omnicore Computer Aided Dispatch Software?
The quantum leap in radio dispatch consoles
The brand new omnicore computer aided dispatch software is the next generation in scalable enterprise radio dispatch management and can be hosted on site, in the cloud or data center.  An evolution of popular Omnitronics radio dispatch consoles altusomni and RediTALK-Flex, omnicore combines the best of both worlds and is a flexible, easy to use system for small organizations and large enterprises alike.
For peace of mind, the upgrade to omnicore is easy: it is compatible with existing tried and proven Omnitronics gateways and features omniconnect interoperability for those wanting to connect people, technologies, protocols and manufacturers.
Ideal for small organizations to large enterprise scaling beyond 100 operators and/or 200 channels, omnicore has the flexibility to grow with demand. No ifs, ands, or buts.
omnicore will include support for the Kenwood NXDN wireless communications systems through the NEXEDGE IP Console Interface. Dispatchers will be able to communicate over both Trunking and Conventional systems with access to all of the available digital radio features including GPS.  
Features
A Dispatch Powerhouse
Contacts
Automagically centralize your contacts databases into one
Easy to Use
Touchscreen interface with a configurable layout
Location Services
Geofencing, alarms, route playback
Reporting
Sophisticated reporting & analytics into existing systems
On-the-fly
Central changes are instantly updated
Interoperability
Interconnect protocols, technologies & manufacturers
Connections
Digital & legacy analog radio systems, phone, paging, SIP
Scalable & Flexible
Powerful, centralized instant configuration
Technical Specifications
What is Included?
Splendiferous Features

Real Time Dashboard
Configurable web display for real-time operational system information
Cloud, Site and/or Data Center Deployment
Designed to be run and managed in a virtual machine environment
Simple Licensing
All licensing stored on central server
Redundancy/Failover (Server Based)
Central server uses Microsoft clustering for mega reliability. Radio dispatch consoles continue to work during server unavailability
Reporting & Analytics
All system information available via REST API. Compatible with industry standard reporting tools
Dispatch User Interface
Do more with less clicks. 
Central Configuration & Monitoring
Easy to use web based configuration interface
Public Safety Grade Rapid Recall
Advanced instant voice recording and playback. Locally stored audio recordings of all calls
Integrated Location and Real-Time Mapping
Configurable real-time display of devices on map. Customizable icon and identity display
Support for Multiple Organizations
One server can be used to manage independent organizations or business units
Flyer
Why omnicore?
The Quantum Leap in Scalable Enterprise Dispatch.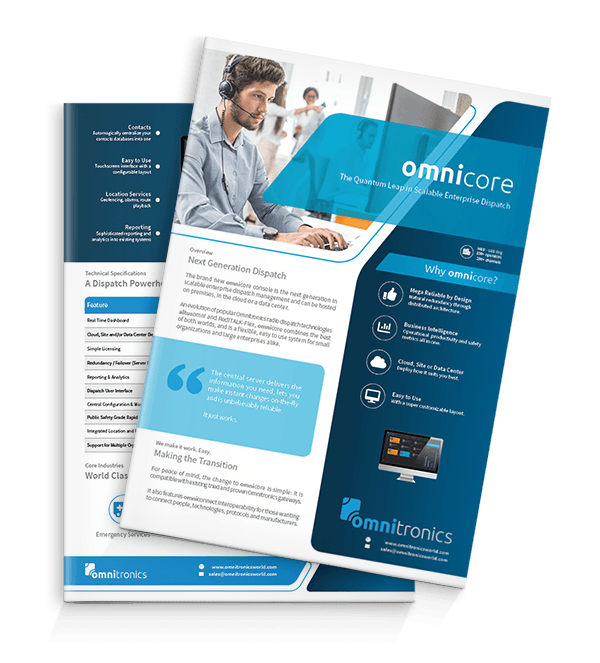 Business Intelligence
Big data enterprise reporting with dashboards, system and performance analytics. Supercharge your incident or accident insights. Operational productivity and safety all in one cad system.
Deploy Your Way
omnicore can be deployed virtually on site, in the cloud or a data center – no need for additional hardware that has to be maintained and/or replaced. 

Mega Reliable
Natural redundancy included through distributed architecture. Thumbs up to unparalleled reliability.
Easy to Use
The sleek and easy to use operator interface makes it a breeze for casual and daily dispatch center users alike. The design is touch screen friendly with a configurable layout. 
Compare
Top 3 Radio Dispatch Systems to Review in 2020
Can't find what you are looking for?