Flexible RoIP Gateway for analog systems
Flexible RoIP Gateway for analog systems
Flexible RoIP Gateway for analog systems
 Overview
Why Choose the IPR110+ RoIP Gateway?
The IPR110+ is a flexible RoIP Gateway that combines VoIP & SIP technologies to enable dynamic connections to remote radios making radio communications more accessible and easy to use.  
The 110+ RoIP Gateway is compatible with legacy tone schemes to extend the life of your existing analog radio network, including Motorola MDC 1200, EIA Tone Remote, Selcall, DTMF, Quickcall Paging,  IP-based Voice over IP (VoIP) Recorders.
It also provides remote RS-232 channel change for many popular radio models as well as higher levels of security.
The real power of this device comes from the product's ability to manage connections with SIP phones and SIP compatible PBX systems. This product is perfect for organisations requiring occasional access to a radio network using SIP Phones.
The IPR 110+ provides built-in encryption up to 256 bits (subject to export restrictions), protecting conversations against unauthorized access and eavesdropping.
PTT over Cellular (PTToC) is supported. For those who require a simple RoIP gateway, the IPR100 might be a suitable alternative.
 
Connect Radios
Connect disparate radio repeaters via IP

Dispatch
Integrate dispatch systems to radios via IP
Phones
Link groups of radios, IP and VoIP channels in various combinations 

Leased Lines
Replace Leased Lines easily by using a gateway 

Features
Flexible RoIP Gateway for Analog Systems
Encryption
Protect against unauthorized access & eavesdropping
SIP Telephony
Connect telephone and radio networks
Network Flexibility
Connect in more ways with just a gateway
Legacy
Compatible with legacy tone schemes
PTT over Cellular
Use PTToC to listen & speak over connected radios
Combine
VoIP and SIP technologies combined for dynamic connections
Flyer
RoIP Gateways
Connect more in more ways.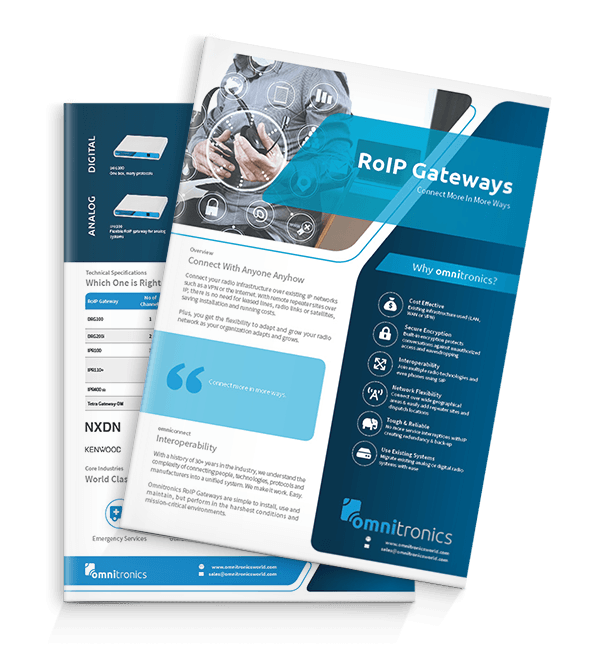 Technical Specifications
What is Included?
Feature

Power Supply
12 Vdc @ 100mA
Detect/Generate
DTMF, CTCSS, Selcall
Input/Output
Digital: 2 in/2 out
Analog: 8 in
Network Monitoring
SNMP
Web Configuration/Firmware Upgrade
Included
VoIP
4 channels included
Detect / Generate

Motorola MDC 1200, EIA Tone Remote, Selcall, DTMF, Quickcall Paging,  IP-based Voice over IP (VoIP) Recorders

PTToC
Included
Value Add-On
ESChat
A remote communications app, ESChat connects you with all devices in the field, allowing you to stay connected anytime and anywhere. This cloud-based service is integrated with Omnitronics IPR110+ and IPR400 S2 as standard, to keep communication lines open, even when you are without your radio.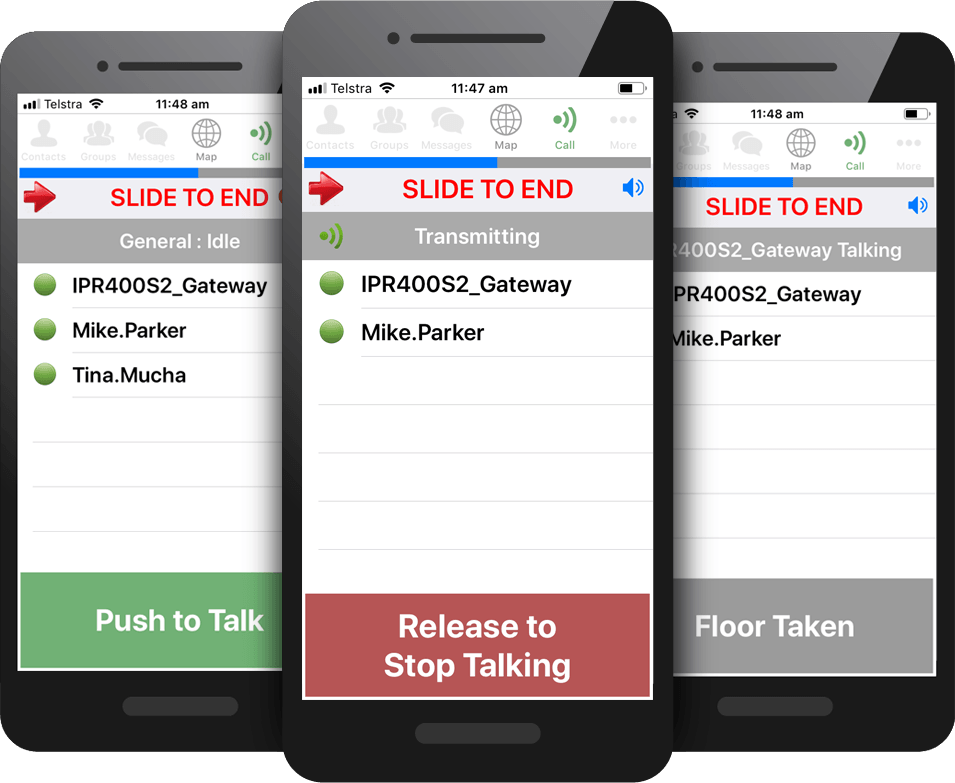 We'll find the perfect system upgrade for you.
A leading security and facility services company in North America provide specialized retail security to more than 1,000 shopping centers. Every day, over 200,000 of their professionals head to work prepared to secure and care for the people and businesses in their...