Digital Radio Gateways



Connect more in more ways.
Overview
Why Digital Radio Gateways?
The Omnitronics Range of Digital Radio Gateways provide organizations with a range of benefits  including added security, redundancy and flexibility.
The gateways operate as an interface between Omnitronics dispatch solutions and a digital radio such as a MotoTRBO mobile, a DMR repeater or a P25 base.  Whether an organization is running different digital radio systems (including DMR, P25, Tetra etc) or a combination of them, it doesn't matter.
The radio gateways translate voice and data into the same digital protocol, meaning differing radios and protocols will all be able to connect to the one network. Users are no longer restricted in their choice of protocol nor need to convert their entire network in one swoop. True interoperability is now within reach.
Adding Value to Digital Radio Networks
Why use a Gateway for Digital Radio?
While digital radios already operate over IP, gateways still provide significant benefits to mission critical communications.
Save on Cost
Allow radios with point-to-point protocols to be shared amongst a number of operator positions.
Additionally, only one vocoder is required.
True Interoperability
Not only can a mixture of radio types (both analog and digital) be interconnected on the one network but gateways also ensure interoperability across features like Location Services which are not tested as part of open-standards.
Secure Encryption
Worried about security of communications?

Omnitronics

RoIP Gateways offer built-in encryption, protecting against unauthorized access and eavesdropping.
Flexible
Scaling up has never been so simple.
Networks can easily be added to and expanded when RoIP gateways are used. Have your full choice of dispatch consoles and equipment.
Compatible
Integrate easily with existing IT infrastructures without losing features.
Reliable
Say goodbye to service interruptions!
RoIP gateways can build in redundancies and back-up paths – increasing availability and reliability of the network. 
Wide Area Network
Connecting Remote MOTOTRBO Mobile Radios via IP
 A DRG100 is a simple and cost effective way to connect MOTOTRBO mobile radios all across the country to a Central Operations Center using IP.  Better yet, secure encryption means that the conversations are safe from eavesdropping.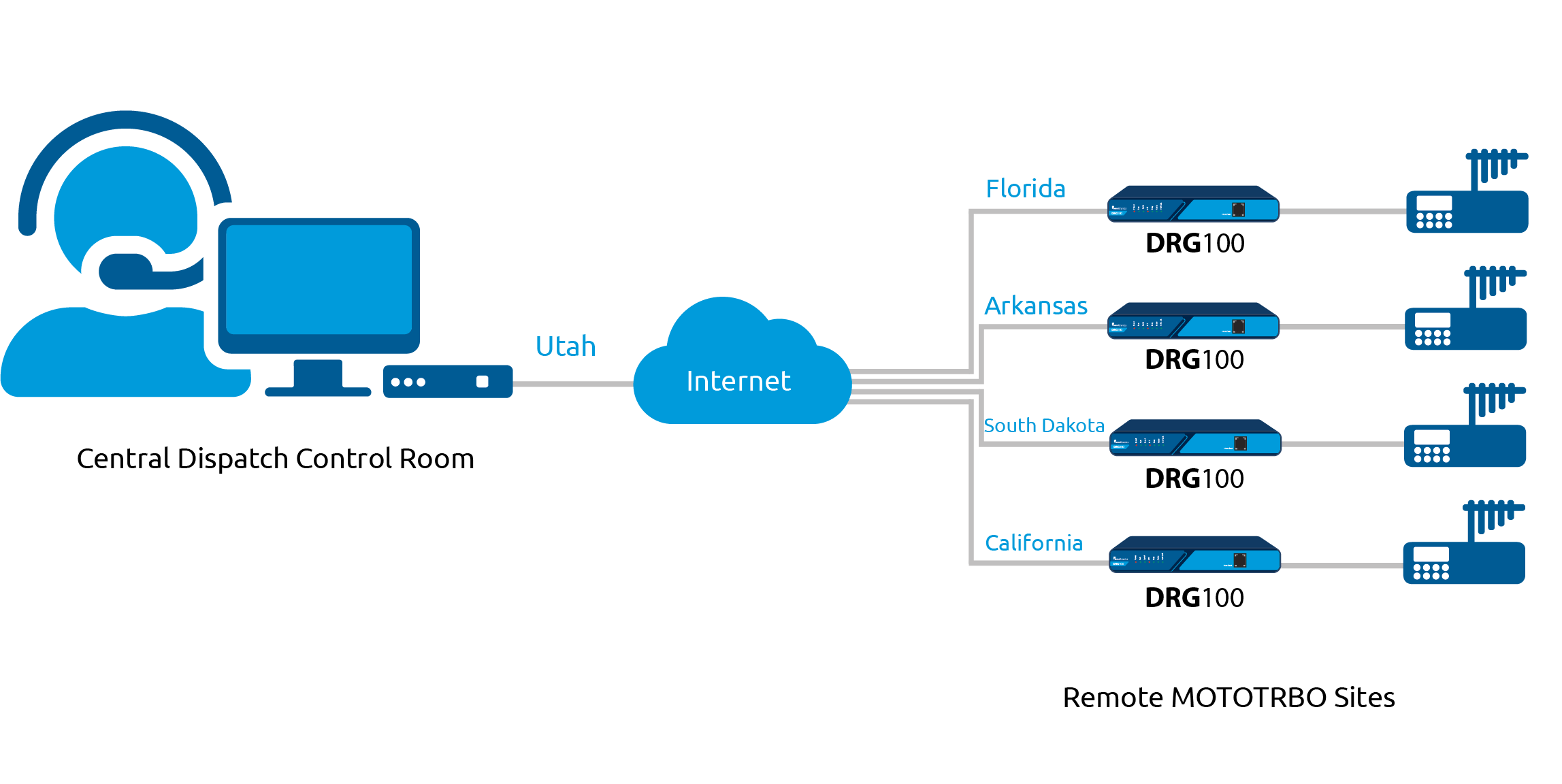 Video
Benefits of Radio over IP
What is Radio over IP? See how RoIP can decrease costs and increase flexibility.
DRG
Number of channels (timeslots): 1

10/100-BaseT Ethernet port via RJ-45 connectors: 1

Powered from a 12V DC plug pack

Multicast addressing support

Multiple voice codecs for compression

Voice Activity Detection (VAD) with silence suppression for bandwidth efficiency

Software attenuation of Radio-side levels

Status and diagnostic LED indicators on front panel

Software configurable and firmware upgradeable via web interface

Static or dynamic IP address configuration

Optional voice encryption with user configurable key

Supports incoming SIP connections from Omnitronics equipment and software

Secure communications using AES encryption (Australia model only)

4-wire plus E&M signals on Transceiver port compatible with Omnitronics 619 Audio Bridges

USB 'master' port

RS-232 radio control port

Connection to both transceivers and operator handsets
We'll find the perfect system for your individual needs.
Omnitronics Receives Prestigious ARCIA Industry Excellence in Local Manufacturing Award with their powerful digital radio gateway - DRG ...
read more