Case Study
Central Maryland Region Uses Perfect Fit 619 Audio Bridge for Rebanding Program
Re‐banding With Interoperability Gateway
Many organizations are going through the difficult process of re‐banding their existing radio fleet as stipulated by the FCC. Teltronic Inc. (through B&J Communications) was presented with the task of upgrading 29 RF sites with 4 repeater channels at each site.
The existing repeaters were re‐banded on the new frequency plan and 4 temporary repeaters were added and tuned to the original frequency plan (back‐to‐back configuration). Most importantly, this had to be done without the loss of service to any radio user in any of the agencies concerned.
A simple, safe and cost‐effective solution was required to  llow the transition of networks and the eventual removal of the old equipment. The availability of 19" rack space at some repeater sites was also a  onsideration. Teltronic selected the 619EI Audio Bridge / Interoperability Gateway for this purpose.
Customer Profile
Teltronic  works collaboratively with multiple Public Safety agencies across various jurisdictions
Application
Re-band frequency without loss of service to radio user
Products Used
619EI Audio Bridge / Interoperability Gateway
Business Benefits
A Simple, Safe And Cost‐Effective Solution
Balanced Audio Between Sources
No Infrastructure Upgrades Required
The Challenge
How to Combine a Number of Frequency Bands
The region wanted to crossover to the re‐banded frequencies gradually whilst maintaining quality of service to its users. Therefore, the solution needed to be totally transparent to those users. The challenge was how to combine a number of frequency bands (new and existing) so that users could still talk to each other while the crossover was undertaken.
The Solution
Run The Old And New Narrow Band Frequencies
The approach taken was to run the old and new narrow band frequencies in parallel and combine each group's audio at the repeater site. Two audio bridges were used at each site and the linking was arranged to form two talk groups on each bridge. Link paths within an audio bridge are configured via front panel DIP switches. The 19" 1RU enclosure meant that rack space was kept to a minimum. Balancing audio between different audio sources for correct deviation can be challenging. However, the 619EI has separate audio level controls for incoming and outgoing paths, making this job very easy. Overall, the 619EI makes this kind of application simple to implement.
Product Focus
619EI Interoperability Gateway
Conclusion
Low Cost and High Impact
The 619EI audio bridge provided an ideal solution for the project, meeting all decisive factors of reliability,  convenience of installation and low cost. By using the 619EI, Teltronic Inc. have been able to solve the re‐banding problem at minimal cost and without impacting on the ability of the agencies to carry‐out their mission.
Case Studies
Similar Success Stories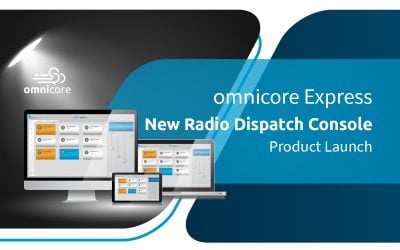 Omnitronics introduces omnicore Express: The Feature-Rich Radio Dispatch Console for Small to Medium...
read more
We'll find the perfect system for your individual needs.