Yazoo covers the largest area of any county in the State of Mississippi, USA. Their command & control center is a busy hub combining centralized dispatch for the Yazoo County Sheriff's Office, Yazoo City, Yazoo Fire Department, and Law Enforcement / Police for the Cities of Yazoo, Sataria, Eden and Betonia in addition to 9 volunteer fire departments throughout Yazoo County.
EMA Director Jack Willingham and the Board of Supervisors had previously chosen an Omnitronics DX-Altus system to manage these complex communications. As their call volume increased they saw the need to add an extra radio position so as to respond more quickly and efficiently to emergency calls.
Application
Upgrade from Omnitronics DX-Altus Dispatch System to Omnitronics RediTALK-Flex Dispatch Software
Products Used
– RediTALK-Flex Dispatch Management System
– DRG100 P25 Digital RoIP Gateway
– IPR100 Analog RoIP Gateway
– IPR110+ Analog RoIP Gateway
– omnihub Media Dock

In Partnership with Ozborn Communications
Business Benefits
Conforms to P25 Interoperability Standards
Simple Installation and Setup
Flexibility to Adapt to Future Needs
MSWIN Integration
Compatibility
One of the main objectives of the new system is that Yazoo County needs to be able to interface to the statewide Mississipi Wireless Information Network (MSWIN) when the requirement arises.
MSWIN is a P-25 700 MHz trunked phase 2 Motorola LMR public safety communication system which is designed to provide 97% mobile area coverage statewide via multiple sites.
MSWIN is the only statewide interoperable emergency communication voice and data network available for use by both state and local public safety entities and connects all police, sheriffs, public safety, county, local state police, and fire departments through Tait TM9400 mobile radios .
Product Focus
RediTALK-Flex Dispatch
Interoperability
Connect technologies, protocols and vendors
Easy to Use
Clean and customizable User Interface
Flexibility
Use the power of IP to connect & unify anywhere
Duress & Emergency
See who calls where and when
Geofencing
Easily set up zones & alerts to monitor movements
Radio Linking/Patching
Connect groups of radios in real time
Telephony
Receive and make calls and patch to radios
Location Services
Advanced people and asset tracking
The Radio Dispatch Solution
Best Suitable Dispatch Option
With the need to add a radio position, Yazoo County turned to Ozborn Communications for advice on the best suitable options to upgrade their system. As the County had previously used, and had been happy with an Omnitronics solution Ozborn Communications recommended they remain with Omnitronics but upgrade to a Redi-TALK Flex system.
The County preferred the graphical user interface (GUI) found in RediTALK-Flex and liked that the console interface is easy to use so operators could be quickly trained ensuring a smooth transition between systems. Remaining with Omnitronics also meant existing gateways could be reused, minimising the cost of the upgrade.
This was successfully implemented, comprising of 12 channels interfaced to the MSWIN statewide P25 trunked system via Omnitronics DRG100 gateways connecting 8 Tait TM 9400 mobiles and a combination of Tait, Icom and Motorola radios.
Implementation
Network Diagram
Case Study
Omnitronics

Dispatch Connects Yazoo County Authorities
Conclusion
Set For The Future
Yazoo County are now able to provide a greater quality of service to their community due to improved efficiency enabled by the new RediTALK-Flex Dispatch System.
We thank our Partner Ozborn Communications for recommending and effectively implementing the solution.
We'll find the perfect system for your individual needs.
Case Studies
Similar Success Stories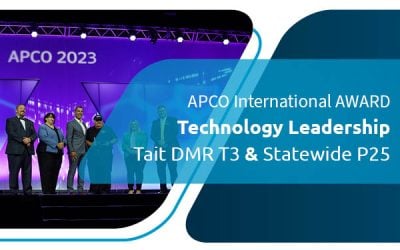 Omnitronics omnicore Dispatch Technology Wins Prestigious APCO International Technology Leadership Award with Tait DMR T3 Integration into...
read more