Workforce Mobility
Remote Radio Dispatch Operators
COVID-19 is changing the world. It is changing the way we think, act, interact, communicate, socialize, work and prepare. Challenging times tend to unearth new strategies and resources that would ordinarily not have surfaced or been applied under normal circumstances. Amongst the doom and gloom of this global disaster, there is a bright spot: the pandemic is fostering the creativity of organizations large and small to come up with alternate ways to offer their products and services. Moreover, employers are reviewing flexible work arrangements, equipping their teams to work remotely, reviewing policies and procedures to keep their staff and clients safe, employees developing new skills, new habits, new ways of working.
Before COVID-19, would Public Safety organizations ever have considered having their radio dispatch operators work remotely from their homes?
Now, in times of social distancing, isolation and quarantine, that's actually a much considered work arrangement. Our mission-critical public safety organizations are much-relied on in times of disaster, BUT they also need to be protected, just like anyone else.
Technology allows us to change the way we work and with radio dispatch consoles that are mobile and work from a tablet or with systems that have servers running in the cloud, a temporary or permanent home office for a radio dispatch worker is turning into reality real fast.
And whilst it may take some time until we adjust to new work environments and circumstances, the safety of our team members takes utmost priority.
Video
RediTALK-Flex

Mobile Dispatch

In mission-critical tasks we see that security, police, special response, ambulance, and others working closely together. Stopping the threat, victim rescue and medical assistance require tight collaboration under extreme time pressure. RediTALK-Flex mobile dispatch console can connect all parties and streamline the operation, so the teams can dedicate their attention to what matters most.
Remote Dispatch Operator
Radio Dispatch Options
SML-MED Organizations
<12/24 Operators
<12 Channels
RediTALK-Flex dispatch is an easy to use radio dispatch software, that can be run on a computer, laptop or even a tablet. No matter if the dispatch operator works from the control room, from out in the field, or even from home. RediTALK-Flex dispatch supports Paging, Push to Talk over Cellular and allows for Internet of Things integration for remotely controlling external devices.
 Designed for mission-critical touchscreen operations, the console is a popular replacement option for users of traditional button-based consoles that are now seeking to upgrade. 
Flexibility
Use the Power of IP to connect & unify anywhere
Interoperability
Connect Technologies, protocols & vendors
Duress & Emergency
See who calls where and when
Easy to Use
Clean & customizable user interface
Geofencing
Easily set up zones & alerts to monitor movements
Radio Linking / Patching
Connect groups of radios in real time
Location Services
Avanced people & asset tracking
Telephony
Receive, make calls & patch to radios
Tablet Friendly
Mobile Radio Dispatch that can even run on a tablet
MED-LGE Organizations
up to 100+ Operators
up to 200+ Channels
The omnicore dispatch management system can be hosted in the cloud for easy remote acces, no matter where the operator is located, making it a really good solution in times of crisis. This essentially means that the dispatch operator can exercise social distancing or be in lock-down AND continue to do their job, all in the safety of their own home.
Even supervisors or system admins can work from home. The entire server configuration can be accessed remotely via the internet with instant on-the-fly updates to operator consoles. Best of all, this may even be done from a tablet or mobile phone.
Cloud, Site or Data Center
Deploy how it suits you best
Flexibility
Use the Power of IP to connect & unify anywhere
Interoperability
Connect technologies, protocols & vendors
Easy to Use
Touchscreen interface with configurable layout
Reporting
Sophisticated reporting & analytics into existing systems
Connections
Full digital & legacy analog radio system, phone, pagin, SIP
In-Built Location Services
Geofencing, alarms, route playback
Centralized Contacts
Automatically centralize contacts databases into one
High Availability
Fully redundant, data replication, clustering & 24/7/365 Support
We'll find the perfect system for your individual needs.
Case Studies
Dispatch Success Stories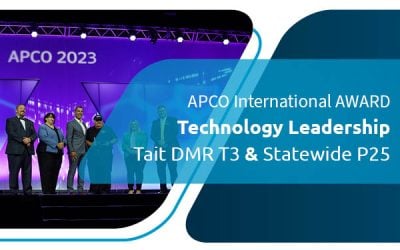 Omnitronics omnicore Dispatch Technology Wins Prestigious APCO International Technology Leadership Award with Tait DMR T3 Integration into...
read more