omnicore Express
5 Reasons Why You Need the omnicore Express Dispatch Console
Organizations aim to operate reliably and efficiently, regardless of their industry or sector. Whether they are serving the community, or furthering their commercial exploits, finding simple radio dispatch and networking solutions is essential.
omnicore Express offers interoperability solutions as well as simple upgrade paths.
Omnitronics omnicore Express is a Windows-based dispatch console software that is easy to install and even easier to use. To show you just how great we believe our dispatch application is, we've compiled a list of five reasons why you need to invest in the omnicore Express Dispatch Console.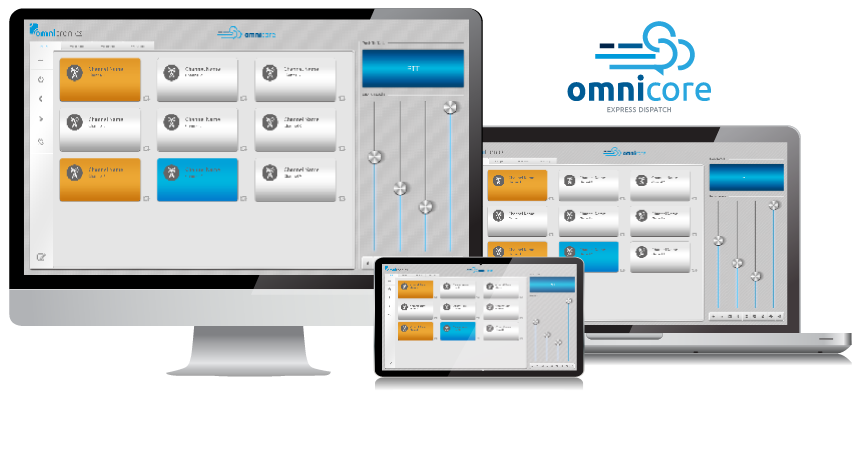 Reason 1
Runs on Windows PC
Sophisticated software used to demand complicated hardware. However, Omnitronics believes that simple and sound technology that is easy to use and without complication is central to customer value. omnicore Express was built with this in mind.
Rather than demand its own hardware, omnicore Express can be run off a standard Windows PC. What this means is that it can be easily installed and doesn't require a central server, cutting the costs of hardware, labour and expertise.
Reason 2
Designed For Both Analog and Digital
omnicore Express is a dedicated Voice over IP dispatch system that works with both analog and digital radio. It can support traditional signaling schemes, including Selcall/5-Tone and EIA tone remote and 2-tone paging.
However, omnicore Express is optimized for digital, which allows its full capabilities to be tested. Developed in collaboration with major radio manufacturers, the partnership ensures customers have access to complete functionality, running from call management and text messaging to GPS.
Even if you have a stockpile of analog and digital radios, omnicore Express ensures interoperability across a range of radio systems as well as different organisations.
One of the biggest obstacles to new technology is the learning curve stakeholders need to navigate. To avoid the pitfalls that come from user errors associated with new technology, omnicore Express provides a user interface that facilities is designed for simple touch screen operation and is supported by context sensitive menus.
It doesn't matter if your system uses Digital Mobile Radio, P25 or both, omnicore Express User Interface is consistent across different radio systems. The overall aim is to increase the amount of time operators have, allowing them to spend more of it on what's important.
Reason 4
Affordable Scalability
omnicore Express, in its standard form, offers support for up to twelve channels, most functionalities from its larger cousin omnicore Enterprise, including GPS. For operators, this translates into the ability to complete individual, group or emergency calls, send and receive messages, access Call History and much, much more.
If your business grows or you need access to increased functionality, omnicore Express can be upgraded to omnicore Enterprise (The medium-sized omnicore Essentials is available to clients in the US-only as an additional option). What's more, users have access to a number of advanced options – including up to 128 active Channel licenses floating operator licenses.
omnicore Express GPS provides operators swift access to geographic data in real time. There is an option to add geofencing and historical route tracking. But you can go even further with centralised comprehensive asset monitoring and management services.
An intuitive user interface makes omnicore Express an efficient addition to your dispatch operations.
To get the best out of modern technology, companies need access to the expertise that developed it. omnicore Express ensures that no company is left out to dry through its ongoing support from Omnitronics staff.
Our quarterly updates ensure continuous improvement of omnicore Express functions and features, allowing users to expand their capabilities through powerful additions. The result is a more flexible product that can grow as you do and is consistently and continuously at the forefront of technology advancements.
For organizations, this means greater resilience and agility, allowing better and quicker decisions that influence the success of your projects. omnicore Express ensures that your business can change with the market and take advantage of new areas with new functionality.
If you are looking for an easy-to-install, easy-to-use dispatch console application, make sure you talk to one of the experts at Omnitronics.
Click here for more information on the feature-rich omnicore Express radio dispatch console.