omnicore Full Suite



Mission-Critical Dispatch
Mission-Critical Enterprise Dispatch
Mission-Critical Enterprise Dispatch for Server, Site or Cloud Deployment
Support & Maintenance Agreement



Support & Maintenance Agreements
Peace of mind with 24/7/365 global support.
omnihub



Standalone Media Dock for Professional Dispatch Operators
Compare
Top 3
Omnitronics

Radio Dispatch Console Software Options in 2023
 The range of available dispatch consoles and the technical specifications that radio management software offer, is constantly growing. From complete hosted radio dispatch management solutions to button-based hardware dispatch console systems, options are aplenty.
With over 40 years of experience, Omnitronics has been able to provide radio dispatch consoles for every type of application and every budget, and is renowned for being able to customize dispatch radio console systems to suit individual organizational requirements.
A trend away from hardware-based radio consoles has seen Omnitronics software-based consoles grow in popularity, replacing many physical dispatch consoles at a similar pricepoint, but with modern features, and the capability to integrate both analog and digital radio as well as taking advantage of radio interoperability capability, connecting a variety of different protocols, manufacturers, and radio vendors.
On the other end of the sprectrum, the omnicore Enterprise Dispatch solution can be deployed in the cloud, on site, and in a datacenter, making use of a centralized  server to manage this radio dispatch management system designed for larger organizations. omnicore Enterprise offers even more functionalities and features than its smaller omnicore Express counterpart, however the radio interoperability and customization options are available with either radio console.
We've put together a list of the top 3 best Omnitronics radio dispatch console software options available on the market so you can pick out the best one for your needs: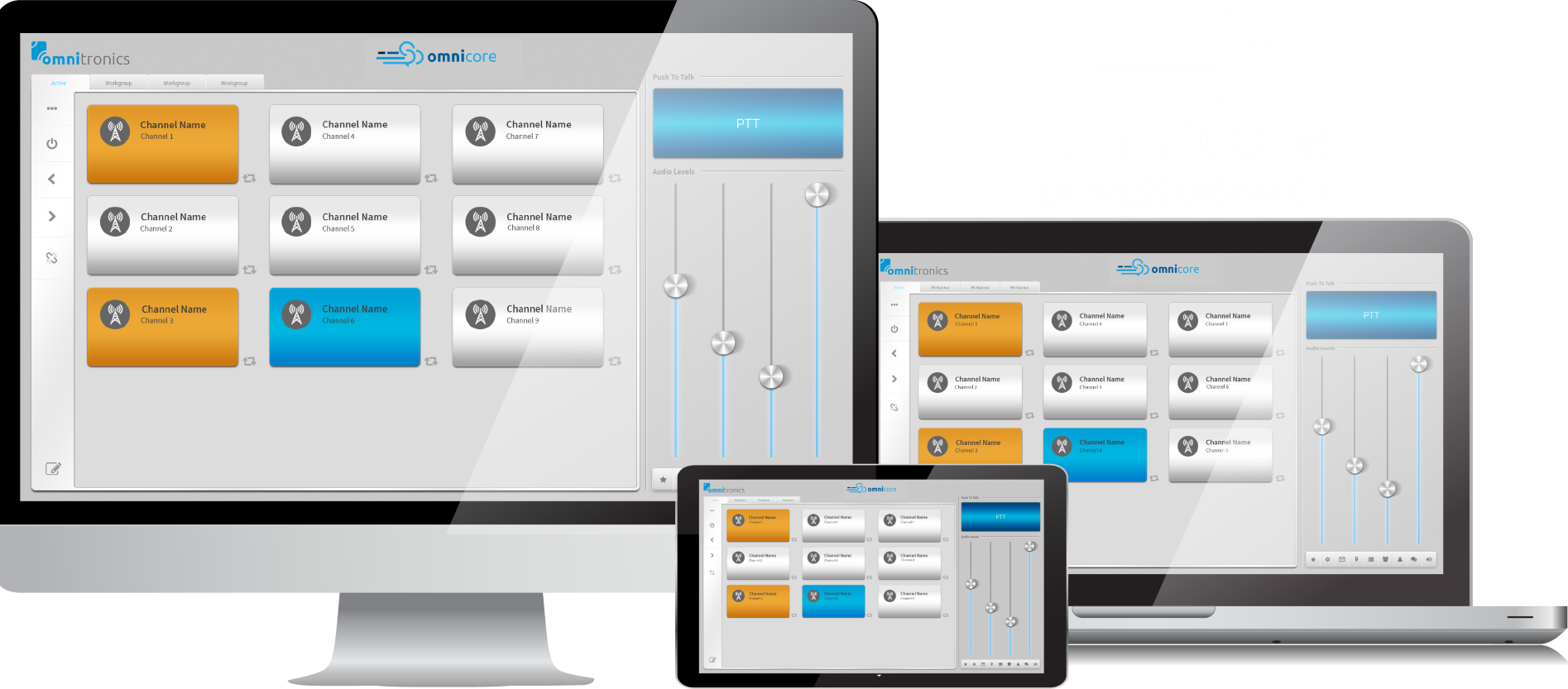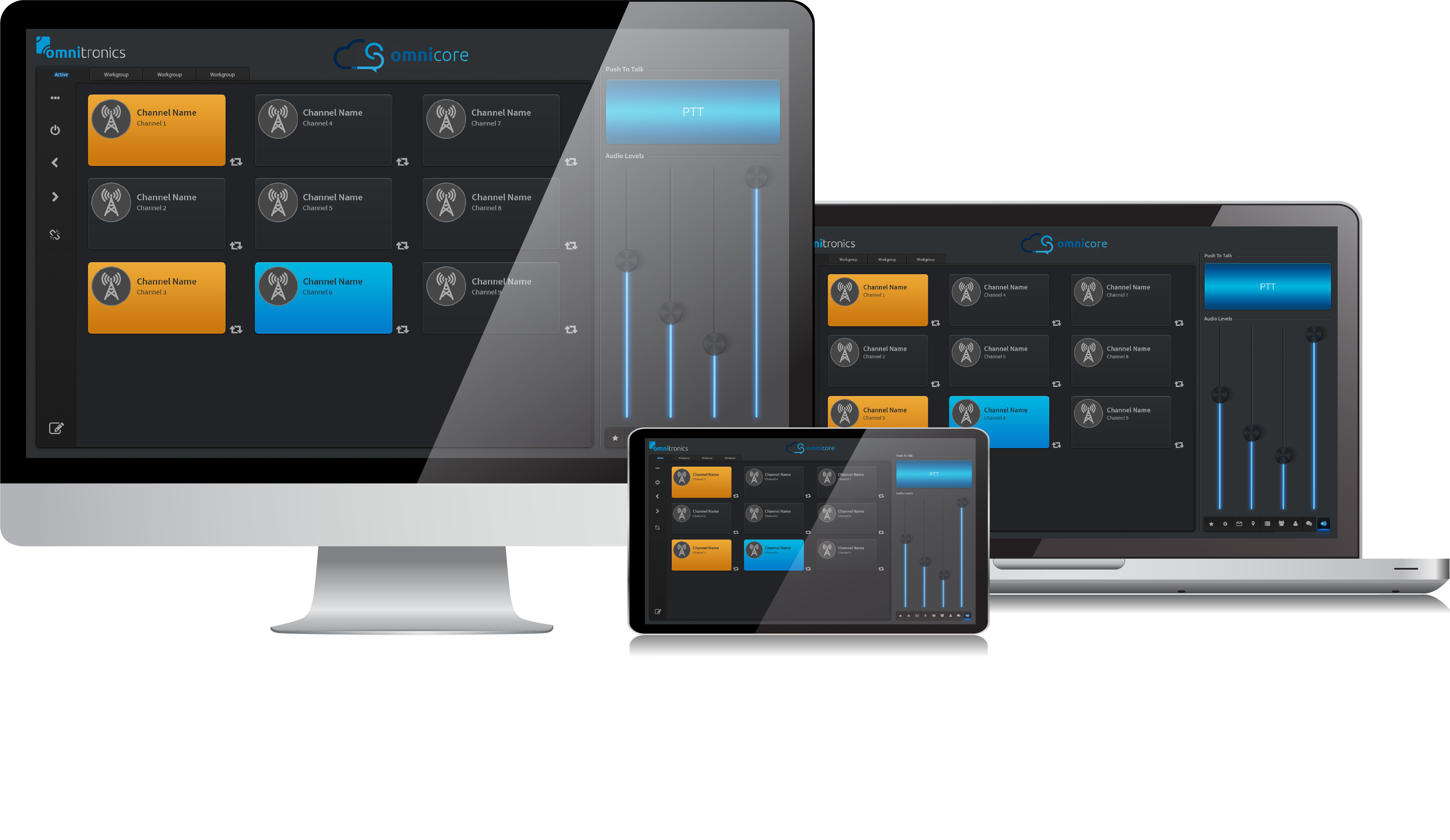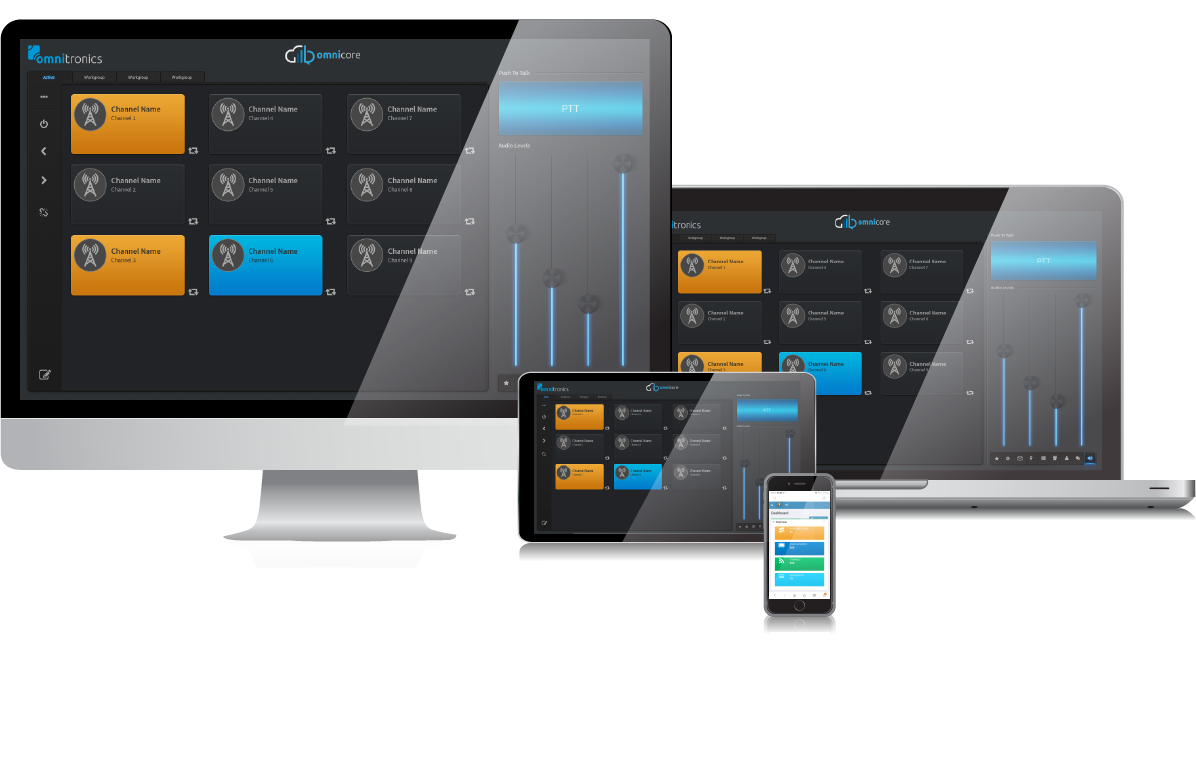 Express
SML Organizations
​Platform: PC, omnihub2 USB Media Dock (optional)

Maximum Channels / Talk Paths: 12

Maximum Configured Operators: 40

Maximum Active Operators: 5

SIP Lines Per Operator: 16 w 3 Lines Per Extension

Technology: Digital & Analog

Interoperability: omniconnect Technology, Protocol, Vendor Agnostic

CONSOLE SETUP

Touch-Screen Ready

Onscreen Audio Controls

Configurable Audio Output

Customizable Operator Screens

Auto Headset / Speaker Switching

Contacts per Console: 1000

Contacts Backup & Restore

Contacts Export & Import

Contacts Centralized & Shared

CONSOLE FUNCTIONALITY

1-Click Customizable Workflows

Live Web feeds (CCTV, Video, URL, etc.)

Call History

Rapid Recall

Digital Radio Functionality

Digital Channel Change / Talk Group Change

Channel Change (Analog)

Selcall (Analog)

SIP Telephony

Canned Voice Messaging

Radio Linking/Patching

Phone Patching

Dispatcher Intercom: Broadcast & Multiple Groups

USA Public Safety Features

Public Safety Grade Rapid Recall

Location: Built-In Geofences & Historical Tracking

Aux I/O | IoT

PTToC / POC Support

SMS Support

Voice Recorder (3rd Party) Integration

Call Queuing / Request to Talk (RTT)
Emergency & Blast Alarms
Dynamic Regrouping (DMR Standard)

SYSTEM

Cloud, Site, or Data Centre Deployment
Windows Server Architecture

Central License Management

Centralized PC Configuration Engine

Central Configuration & Monitoring

Diagnostics

SMTP Email Integration

Support for Multiple Departments
Real-time Dashboards (Reporting and Analytics)
External Database Integration
Reporting & Analytics Integration to 3rd-Party Systems
Server Redundancy/Failover: Advanced

Fallback Mode Operation: Standard 48h

Fallback Mode Operation: Extended >48h

Access to Optional Packs
Essentials
MED Organizations^
Platform: PC, omnihub2 USB Media Dock (optional) & Windows Server

Maximum Channels / Talk Paths:  24

Maximum Configured Operators: 80

Maximum Active Operators: 8

SIP Lines Per Operator: 16 w 3 Lines Per Extension

Technology: Digital & Analog

Interoperability: omniconnect Technology, Protocol, Vendor Agnostic

CONSOLE SETUP

Touch-Screen Ready

Onscreen Audio Controls

Configurable Audio Output

Customizable Operator Screens

Auto Headset / Speaker Switching

Contacts per Console: 4000

Contacts Backup & Restore

Contacts Export & Import

Contacts Centralized & Shared

CONSOLE FUNCTIONALITY

1-Click Customizable Workflows

Live Web feeds (CCTV, Video, URL, etc.)

Call History

Rapid Recall

Digital Radio Functionality

Digital Channel Change / Talk Group Change

Channel Change (Analog)

Selcall (Analog)

SIP Telephony

Canned Voice Messaging

Radio Linking/Patching

Phone Patching

Dispatcher Intercom: Broadcast & Multiple Groups

USA Public Safety Features

Public Safety Grade Rapid Recall

Location: Built-In Geofences & Historical Tracking

Aux I/O | IoT

PTToC / POC Support

SMS Support

Voice Recorder (3rd Party) Integration

Call Queueing / Request to Talk (RTT)

Emergency & Blast Alarms
Dynamic Regrouping (DMR Standard)

SYSTEM

Cloud, Site, or Data Centre Deployment

Windows Server Architecture

Central License Management

Centralized Server

Central Configuration & Monitoring

Diagnostics

SMTP Email Integration

Support for Multiple Departments

Real-time Dashboards (Reporting and Analytics)

External Database Integration
Reporting & Analytics Integration to 3rd-Party Systems
Server Redundancy/Failover: Advanced

Fallback Mode Operation: Standard 48h

Fallback Mode Operation: Extended >48h

Access to Optional Packs
Enterprise
LGE Organizations
Platform: PC, omnihub2 USB Media Dock (optional) & Windows Server

Maximum Channels / Talk Paths: 200+

Maximum Configured Operators: >1000

Maximum Active Operators: 100+

SIP Lines Per Operator: 32 w 3 Lines Per Extension

Technology: Digital & Analog

Interoperability: omniconnect Technology, Protocol, Vendor Agnostic

CONSOLE SETUP

Touch-screen Ready

Onscreen Audio Controls

Configurable Audio Output

Customizable Operator Screens

Auto Headset / Speaker Switching

Contacts per Console: 4000

Contacts Backup & Restore

Contacts Export & Import

Contacts Centralized & Shared

CONSOLE FUNCTIONALITY

1-Click Customizable Workflows

Live Web feeds (CCTV, Video, URL, etc.)

Call History

Rapid Recall

Digital Radio Functionality

Digital Channel Change / Talk Group Change

Channel Change (Analog)

Selcall (Analog)

SIP Telephony

Canned Voice Messaging

Radio Linking/Patching

Phone Patching

Dispatcher Intercom: Broadcast & Multiple Groups

USA Public Safety Features

Public Safety Grade Rapid Recall

Location: Built-In Geofences & Historical Tracking

Aux I/O | IoT

PTToC / POC Support

SMS Support

Voice Recorder (3rd Party) Integration

Call Queueing / Request to Talk (RTT)

Emergency & Blast Alarms

Dynamic Regrouping (DMR Standard)

SYSTEM

Cloud, Site, or Data Centre Deployment

Windows Server Architecture

Central License Management

Centralized Server

Central Configuration & Monitoring

Diagnostics

SMTP Email Integration

Support for Multiple Departments

Real-time Dashboards (Reporting and Analytics)

External Database Integration

Reporting & Analytics Integration to 3rd-Party Systems

Server Redundancy/Failover: Advanced

Fallback Mode Operation: Standard 48h

Fallback Mode Operation: Extended >48h

Access to Optional Packs
^ Exclusively available in USA