Geraldton Volunteer Marine Rescue
Geraldton Volunteer Marine Rescue Streamlining Operations with RediTALK-Dispatch
For recreational boaties, getting out on the water is largely a relaxing endeavour – a time of escape from the regular grind of life on land. It's easy to forget when you head out to sea the perilous situations you can potentially find yourself in.
One group who can never forget those hazards, however, are the hard-working folks who populate marine rescue stations up and down the coastline. For these people – all of whom are volunteers – remaining vigilant and observant regarding conditions on the water is crucial.
In the event of a boat striking trouble, whether that be engine trouble or something more serious, having reliable communications is one of the highest priorities. For Ian Beard, Communications Officer for Marine Geraldton Rescue (MRG), and Communications Officer for the Western Australian Marine Rescue Association (VMRWA), simplifying the dispatch system has revolutionized his facility and given him flexibility to adjust to changing situations quickly in times of crises.
Customer Profile
Geraldton Volunteer Marine Rescue
Application
Managing Maritime Communications
Products Used
RediTALK Dispatch Console
RediTALK-Flex Dispatch Console
Organizational Benefits
Marine Safety
The Challenge
Overwhelmed by an Outdated System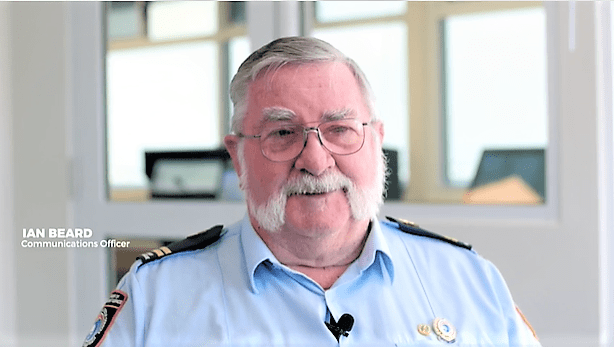 Hearing Ian speak about the way communications used to work at Geraldton VMR, you really get a sense of just how challenging running an effective dispatch centre can be.
"Before changing systems we had eight radios, each with their own microphones," he says. "That included four monitoring marine VHF channels, two monitoring the 27 MHz marine channels, one monitoring HF SSB and one monitoring the UHF CB emergency channel. It was very complicated to operate!"
Amazingly, Ian notes that all eight consoles were usually monitored by a single operator.
"One of the problems we had was keeping track of which radio was going off – you had to be paying absolute attention," he says.
"Often on the marine VHF we'd have a call coming in on channel 16 for someone to log on, while somebody else would be wanting to call for information on another frequency, and it could be very difficult."
Product Focus
RediTALK-Flex
Interoperability
Connect technologies, protocols & vendors
Easy to Use
Clean & customizable user interface
Flexibility
Use the power of IP to connect & unify anywhere
Duress & Emergency
See who calls where and when
Geofencing
Easily set up zones & alerts to monitor movements
Radio Linking / Patching
Connect groups of radios in real time
Telephony
Receive, make calls & patch to radios
Location Services
Advanced people & asset tracking
Managing Dispatch Using 8 Radios
There Must be a Better Way
To have the ability to conduct rescue or recovery missions effectively, Ian and his team realised that something had to be done to make their communications more efficient – that's what led them to the RediTALK RoIP system from Omnitronics. Unsurprisingly, the first item on the agenda was clearing out that abundance of equipment.
"Things are way better with RediTALK, it combines everything into one console," says Ian. "When we moved to the RoIP system we bought four laptops and put the software on them, and now we can monitor from basically anywhere there is a decent internet connection."
The challenge involved with keeping track of which radio was broadcasting on which frequency is now a thing of the past, thanks to the simple, all-in-one solution.
"RediTALK has a follow active function, so if somebody calls in then a button on the console is activated and locks on so you know at a glance which frequency you're operating on. Plus, it's already in the mode for transmission which makes it a lot easier."
Sharing The Load
The Gift of Simplicity
Being a volunteer organisation, Geraldton VMR has a reasonably regular stream of new operators circulating through, all of whom need to be brought up to speed on the communications system. While training was previously a time-consuming and sometimes overwhelming chore, with RediTALK it's easier than ever to get new personnel ready to go.
"The complexity of the old system was a huge inhibiting factor, and we had a few eager volunteers who couldn't deal with it," says Ian.
"RediTALK has made that training process a lot easier. We have 15-20 trained operators at the moment, and the flexibility of the system means out of hours monitoring can be handled much easier, shared around rather than it all landing in the lap of one person."
As an enthusiastic supporter of his organization's new RediTALK system, Ian hopes similar stations on his network will soon jump on board.
"The Marine Rescue Association of WA is trying to get RediTALK installed across the whole network, and the more people using it the better."
Video
Radio Dispatch Operators
The team at Geraldton Volunteer Marine Rescue show you what it is like to be a Volunteer Radio Dispatch Operator managing mission-critical communications.
COVID-19 Pandemic
Dispatch Operators Working From Home During COVID-19 Control Centre Closure
With COVID-19 directives requiring the closure of their Marine Rescue Geraldton Group HQ, they made arrangements to continue providing their vital service from their homes. This ensured Ian and the team are safe and able to self-isolate, whilst still fulfilling their important roles.
Equipped with the RediTALK dispatch software, a team of 7 volunteers from four households were set up to manage radio dispatch communications from the safety of their own homes.
All of the laptops were upgraded from RediTALK to the latest  RediTALK-Flex Dispatch Console which gives them access to the Voice Recording Function plus other features.
Their efforts and dedication, supported by a flexible and mobile radio dispatch software like RediTALK-Flex, ensure that mariners around Geraldton can continue to reach out to the Volunteer Rescue Service 24 hours a day, 7 days a week with their new work arrangements even announced on local news outlets: 
Video
Geraldton Volunteer Marine Rescue
GWN7 Local News Cover of Geraltdon Volunteer Marine Rescue During Covid-19
"… Headquarters closed, but they will continue to respond to emergency situations. […] Staff can monitor the Marine Radio Network from home."
Testimonial
Hear From Our Customer
"Huge shout out to the good folks at Omnitronics for their generosity in providing upgrades to the latest version of their RoIP software for our remote laptops at a huge discount. Along with a whole heap of other bells and whistles, our Radio Monitors who are now working at home, have on screen access to the Call History function which was previously only available on the console at the base."
Ian Beard, Communications Officer at Geraldton Volunteer Marine Rescue