Advanced Location Services
The Advanced Location Services suite provides powerful GPS features from a centralized platform, giving operators the tools to quickly and easily monitor operations and ensure workforce safety.
Advanced Location Services includes the ALS Viewer which enables operators to monitor radio locations, set up geofences and view historic routes. The ALS Viewer then communicates to the ALS Server which provides central configuration and control. Using this model, geofences and other settings are shared across all operator positions enabling enhanced collaboration.
Adding to this power, Advanced Location Services also works in conjunction with GPS Essentials. Warnings and alerts are displayed directly in the RediTALK-Flex or Alto dispatch screen, meaning operators don't require the ALS Viewer open for general day to day operations. They can simply view where that radio is located on the map and contact them directly from the mapping window if necessary.
Features included:
Dynamically create geofences of multiple types such as No Go, Speed, Confinement and Blast Event
Create multiple alarms and notifications derived from the geofences such as entry and exit alarms
Create customized actions against each of these events (e.g. message the radio or alert the dispatch operator)
Manage multiple Maps and Workspaces at one time
Lost Contact status for units whom haven't provided GPS data for a pre-defined period of time
Historic Route Tracking and Playback
Events Logging and Reporting
Enhanced Emergency Management
Choice of maps including the ability to upload your own maps
Integration with GPS Essentials on RediTALK-Flex or Alto
Centralized configuration and control
We'll find the perfect system for your individual needs.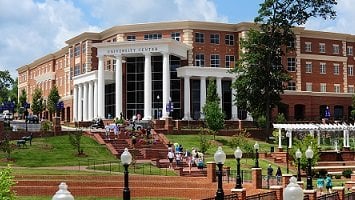 Recognized as one of the best colleges in the south, High Point University (HPU) is a private liberal arts university in North Carolina, USA. With over 4800 students, the university takes security of its grounds seriously, as recently demonstrated by its...
read more