RediTALK-Flex overview


Flexible and Easy to Use Stand-alone Dispatch Software
This Product is in Maintenance Mode.
We recommend selecting the latest in dispatch technology, an omnicore Express Dispatch Console instead. With its advanced features such as Automated Workflows, IoT Integration, SIP Telephony, Rapid Recall, Call History, and more, the omnicore Suite provides a comprehensive dispatch system that can meet the needs of any growing organization. The software-based solution is built with scalability and flexibility in mind, allowing it to evolve with an organization's changing needs and making it a suitable choice for companies seeking a reliable and powerful solution.
Radio Dispatch
Why
RediTALK-Flex

Dispatch Console?
The complex and varied tasks of dispatching have been simplified in the RediTALK-Flex dispatch console. Packed full of features, this powerful radio dispatch software has the ability to conduct a range of operations – from routine to mission critical – in a highly reliable and efficient manner.
Support
We have an outstanding level of customer satisfaction and will work with you to ensure we meet your needs.
Cost Effective
RediTALK-Flex

is a cost effective dispatch console and can be easily customized to fit the needs of any dispatch center.
Simplified
RediTALK-Flex is simple to use and requires minimal training, having been designed for ease of use and quick integration.
Testimonials
Hear From Our Customer
"Omnitronics' ability to propose a 'fit for purpose' solution and their quick response times assured us that they were the right choice for our needs."
Zakaria Dahili, Managing Director at Tacticom
Testimonials
Hear From Our Customer

"Working with Omnitronics and getting set up as a Dealer has been a pleasure. Your company has offered a simple and straight forward solution that's cost effective to a budget conscious area.  So far the first system went in without any problems, and we couldn't be happier with the support […].
The end user for the RediTALK-Flex system […] feels the same way.  As far as the installation and setup of this system: it was as simple and as straight forward as it gets as far as radio consoles go that I have worked with."
Sherril Belew, President at Area Wide Communications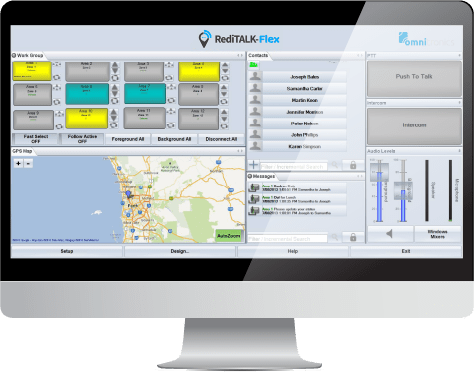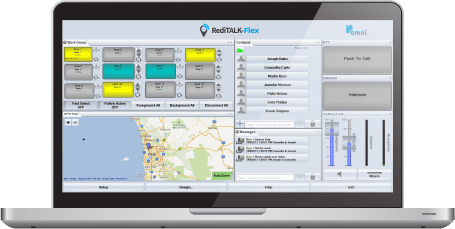 Dispatch Software Features
Flexibility for Small-Medium Organizations
Interoperability
Connect technologies, protocols & vendors
Easy to Use
Clean & customizable user interface
Flexibility
Use the power of IP to connect & unify anywhere
Duress & Emergency
See who calls where and when
Geofencing
Easily set up zones & alerts to monitor movements
Radio Linking/Patching
Connect groups of radios in real time
Telephony
Receive, make calls & patch to radios
Location Services
Advanced people & asset tracking
Benefits
What can
RediTALK-Flex

dispatch console do for you?
Easily Adaptable
We recognize that each organization is different and that's why we have created a range of add-on features that enable you to customize the console to your exact needs.
Simplifies Operations
With an intuitive and fully customizable user interface,
RediTALK-Flex
removes the steep learning curve that often comes with navigating a new system, resulting in a quick integration to your network.
Proven Interoperability
Your communications can become more efficient by connecting users on different media (phone to radio) and across media (radio to radio).
Ensures Safety
RediTALK-Flex
is equipped with a highly advanced GPS tracking option which allows you to monitor mobile and portable units in real-time, ensuring that your team stays safe and alert to all potential hazards.
We'll find the perfect system for your individual needs.
Video
The Power of
RediTALK-Flex

in Under 60s

See how this radio dispatch software is revolutionizing the way in which communication centers operate.
Simplicity
How Simple is
RediTALK-Flex

Dispatch Console?
RediTALK-Flex provides you with all of the features you expect from modern radio dispatch software – but with one big difference.
It brings the simplicity back!
Simple to Purchase
Simply choose what features you need from a list of options, or have our highly skilled engineers create a custom feature for you
You only pay for the number of radio channels/talk-paths you need.
Simple to Install
Connect RediTALK-Flex to a wide variety of radio protocols and technologies
Easy installation for Windows 10 or greater.
As no server is required, all you need to do is plug into your network to get access!
Simple to Use
The intuitive touch screen controls make the dispatch console easy to navigate with minimal clicks for maximum efficiency
Many features can be turned off if not required, allowing the screen to be tailored to your preference.
Flyer
RediTALK-Flex

Dispatch Console

The easy to use and flexible stand-alone radio dispatch software.
Technical Specifications
What is Included?
Features (Standard & Optional)

Maximum Number of Channels / Talk-Paths
12 (20 for USA)
Maximum Number of Consoles in One System
12
Supported Radio Technologies
Analog, P25, DMR (Tier II & Tier III), NXDN, MotoTRBO™, NEXEDGE™, IDAS™, Tetra
IP Protocols
RTP (unicast, multicast), SIP, STUN
Digital Radio Functions
Full support for most protocols | Individual call, group call, all call, emergency call, text messages, talk group change, channel change, call alert, radio check/monitor/stun, …
GPS Essentials
Open StreetMap, online / cache, people & asset tracking incl. radio location, status & ID
Audio Processing
Select and monitor audio streams with independent volume control
Analog Signalling
Two-tone paging , EIA tone remote, MDC-1200, DTMF, Selcall
Voice Recording
60 days, radio and telephone | Call history shows recordings | Transmit recorded voice messages
Radio Linking / Patching
2 independent link groups
Paging
Manual dial paging, all-call page, instant call, stack paging, talk-time feature, alert tones
Aux I/O Internet of Things (IoT)
Up to 4×4 digital I/O modules supported
Additional Channels / Talk-Paths
Up to 10 channels (up to 18 for USA) in groups of 2
SIP Telephone
1 line, make and answer calls, patch call to a radio
Geofencing & Historical Playback
Geofences, events, event log, playback of selected user movements, 60 days of recordings
How many channels and consoles does it support?
RediTALK-Flex supports up to 12 radio channels (20 for USA) and 12 consoles in any one system.
What radio technologies does it connect to?
The current interoperability list includes a range of analog technologies plus DMR, NXDN, P25, MotoTRBO and Tetra.
We are constantly expanding this list, so if you have any unlisted requirements then please contact our sales team for a copy of the latest list.
What are the operating system requirements?
RediTALK-Flex operates on Windows 7/8/8.1/10 PC's (all OS require the Professional Edition) with the latest Microsoft updates, .NET Framework version 3.5 to 4.0.
What IP protocols does it support?
Unicast, Multicast, SIP and STUN
What mapping services does RediTALK-Flex use?
RediTALK-Flex connects to OpenStreetMaps as default, in online or cache mode and also supports ESRI ArcGIS maps, GeoServer maps and locally-hosted OSM tile servers (all in online, cached or cached-only modes) out of the box.
What support does Omnitronics provide?
In addition to our standard warranty, Omnitronics offers Support Agreements for your peace of mind.
Compare
Top 3 Radio Dispatch Systems to Review in 2023
Professional Dispatch Must-Have
omnihub2 Media Dock
Standalone media dock for mission-critical dispatch operators that provides an interface to various audio accessories including foot switch PTT, desk microphone, headsets, speakers, NENA interface, voice recorder and more.
Professional Dispatch Must-Have
omnihub2 Media Dock
Standalone media dock for mission-critical dispatch operators that provides an interface to various audio accessories including foot switch PTT, desk microphone, headsets, speakers, NENA interface, voice recorder and more.
Control Devices Directly From the Console
Aux I/O IoT Dispatch Integration
Remote devices can be activated and deactivated at the push of a button with Aux I/O integration directly accessible from the RediTALK-Flex dispatch console. This standard functionality will allow dispatch operators to execute a number of actions, including for instance opening / closing doors, sounding alarms, locking / unlocking gates and many more.
Video
RediTALK-Flex

Mobile Dispatch

In mission-critical tasks we see that security, police, special response, ambulance, and others working closely together. Stopping the threat, victim rescue and medical assistance require tight collaboration under extreme time pressure. RediTALK-Flex mobile dispatch console can connect all parties and streamline the operation, so the teams can dedicate their attention to what matters most.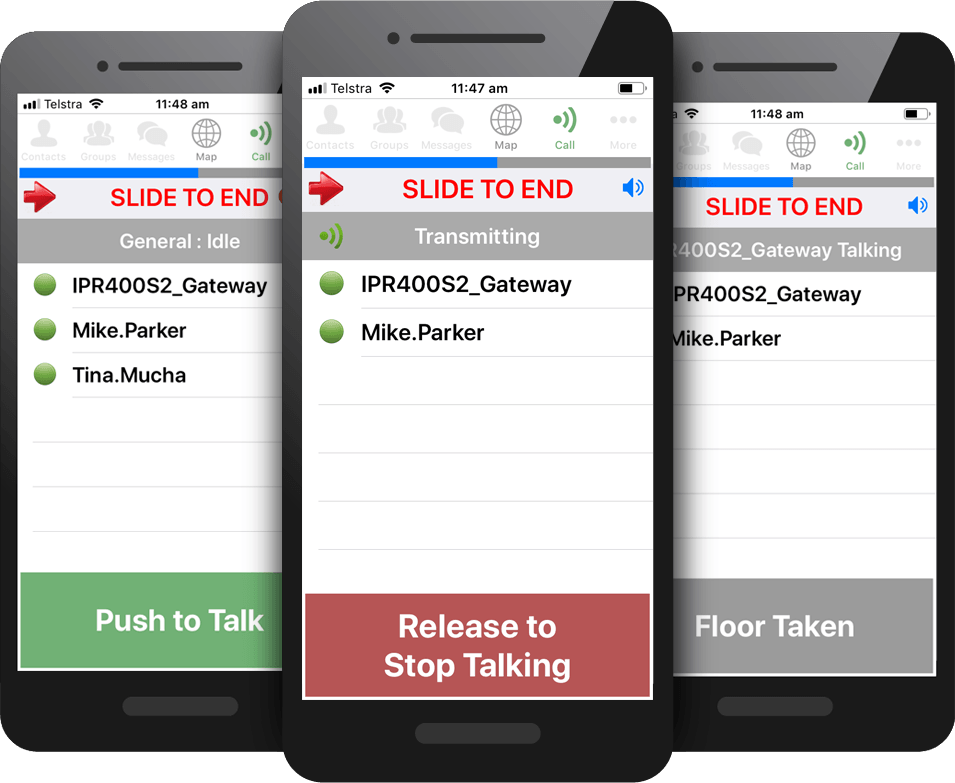 Connect Smart Phones and Radios
Push To Talk over Cellular | PTToC | PoC
A remote communications app connects you with all devices in the field, allowing you to stay connected anytime and anywhere. This cloud-based service is integrated with Omnitronics IPR110+ and IPR400 S2 Gateways as standard, and also integrates into Omnitronics Radio Dispatch Systems. Keeping communication lines open, even when you are without your radio.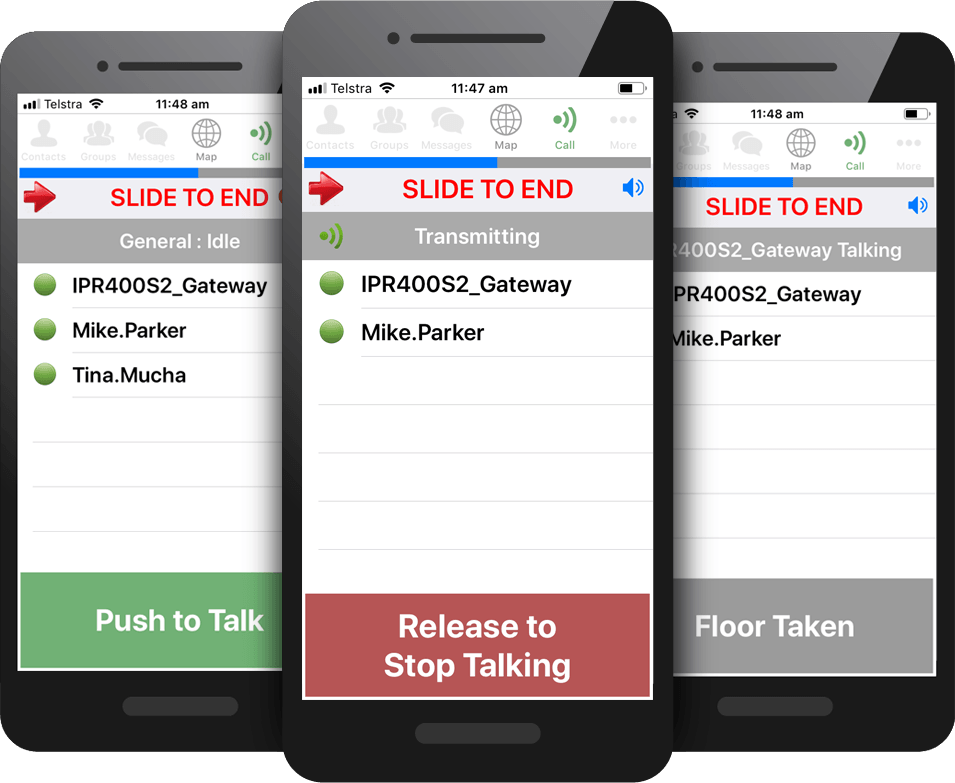 Can't find what you are looking for?
Enhanced Paging
More Paging Functionalities
RediTALK-Flex Paging features a multitude of Paging capabilities that are designed with the requirements of 911 Call Centers and other Public Safety agencies in mind.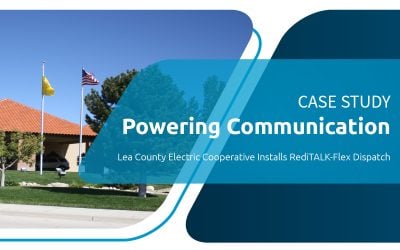 Lea County Electric Cooperative, Inc. (LCEC) is a utility company energizing over 16,000 meters in portions of 6 counties in Southeastern...
read more
Tetra
Tait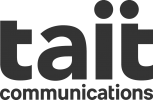 P25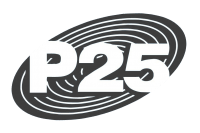 NXDN
Nexedge
Motorola

Kenwood

IDAS

Icom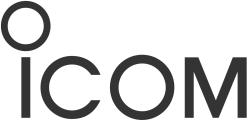 Hytera
Harris

DMR
Damm